Northwestern music department to present Raider Days Concert
Monday, September 17, 2018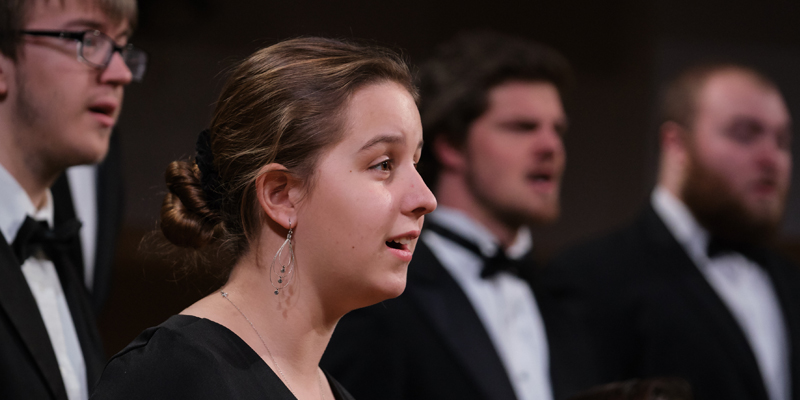 Northwestern College's music department will present its annual Raider Days Concert on Saturday, Sept. 29, at 7 p.m. in Christ Chapel. The concert will feature performances by the A cappella Choir, Chamber Orchestra, Symphonic Band, Women's Choir, and a Northwestern alumni A cappella Choir. The concert is free and open to the public.
Following a prelude by Northwestern's Brass Chamber Ensemble and organist MaryLou Wielenga, the Chamber Orchestra will open the concert with "Autumn" from Antonio Vivaldi's "The Four Seasons." Ellie Bleeker, recipient of the 2018 Ethel Bogaard Strings Music Scholarship, will solo on violin.
The Women's Choir will sing three pieces, including "Beau Soir" written by Claude Debussy and arranged by Linda Spevacek, and works by Uno Naissoo and David Rasbach.
Among the A cappella Choir's four-song repertoire will be pieces by Eric Whitacre and Sergei Rachmaninoff. "Fa Shu Ha," arranged by Yu-Shan Tsai, will include a solo by tenor Matthew Shuka, and "Please Stay" by Jake Runestad will include a solo by soprano Brenna Ellington.
The alumni A cappella Choir will sing "Abendlied" by Josef Rheinberger. Under the direction of Dr. Kimberly Utke Svanoe, professor of music emerita at Northwestern, the ensemble will also sing "Beautiful Savior," arranged by F.M. Christiansen.
Northwestern's Symphonic Band will close the concert with performances of "Overture to 'Candide,'" composed by Leonard Bernstein and transcribed by Clare Grundman, "Shenandoah" by Frank Ticheli and "Danzas Cubanas" by Robert Sheldon.
Also during the concert, Joel Van Peursem, recipient of the 2018 Herman and Elizabeth Ritsema Instrumental Music Scholarship, will present "Concert Piece No. 5" by B.M. Blazewitch on trombone. Soprano Ashlynn Anderson, recipient of the Cyndy Rowenhorst Voice Music Scholarship, will sing "Serenata Gitana" by Miguel Sandoval.
A full schedule of the Raider Days Homecoming and Parents Weekend events can be found at www.nwciowa.edu/raider-days.