Northwestern Jazz Band and Percussion Ensemble to perform
Friday, April 20, 2018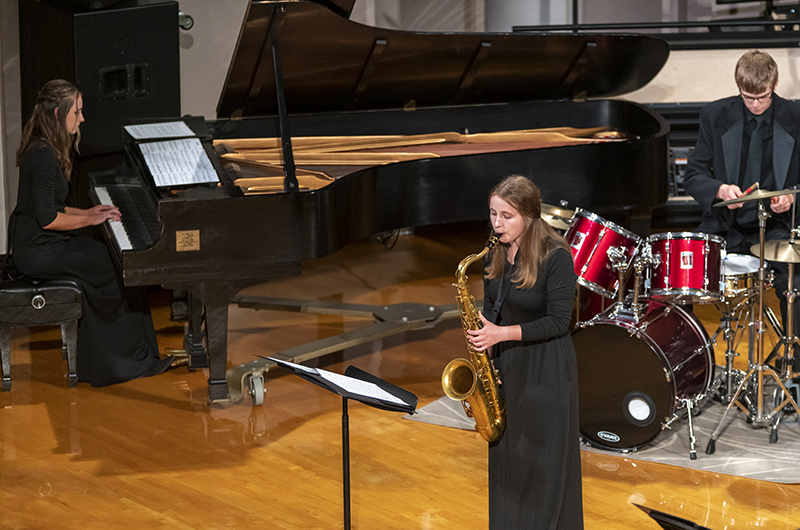 Northwestern College's Jazz Band and Percussion Ensemble will present a concert on Friday, May 4, at 7:30 p.m. in Christ Chapel. The event is free and open to the public.
The Jazz Band's repertoire will focus on music representing an array of colors. "Orange Colored Sky," made popular by the 1950s recording of Nat King Cole and Stan Kenton's Orchestra, will feature Northwestern vocal instructor Cindy Moeller. She will also sing "Blue Skies," an Irving Berlin hit from the late 1920s. The ensemble will also perform "Blue Bossa" and "Blue Rondo à la Turk" before concluding the program with the classic "Little Brown Jug."
The Jazz Band is directed by Dr. Angela Holt, director of bands and instrumental music education. She is in her first year at Northwestern after serving as the associate director of wind studies and instructor at the University of Cincinnati College-Conservatory of Music. She previously directed bands at the College of William and Mary in Virginia and a high school in Texas. Holt earned doctoral and master's degrees in instrumental conducting at the University of Cincinnati College-Conservatory of Music and a bachelor's degree in music education from Wheaton College.
The Percussion Ensemble will perform an arrangement of "Graceful Ghost" by William Bolcom for mallet sextet and a piece for hand drum ensemble, "Piru Bol" by John Bergamo, which is inspired by South Indian drumming. The program will conclude with "Akadinda Trio" by Emmanuel Sejourne. The composition features three players performing on one marimba and uses African melodies and interlocking rhythms.
The Percussion Ensemble is under the direction of Jason Domonkos, who is active in the Omaha area as a drummer, chamber musician and teacher. He has performed in Europe and throughout the U.S., including with the California-based new music group citywater, the Berkeley Contemporary Chamber Players and the Omaha Chamber Symphony. He earned a master's degree in music performance at California State University, Sacramento, and a bachelor's from the University of Nebraska Omaha.