Northwestern College Symphonic Band to present concert Feb. 16
Wednesday, January 31, 2018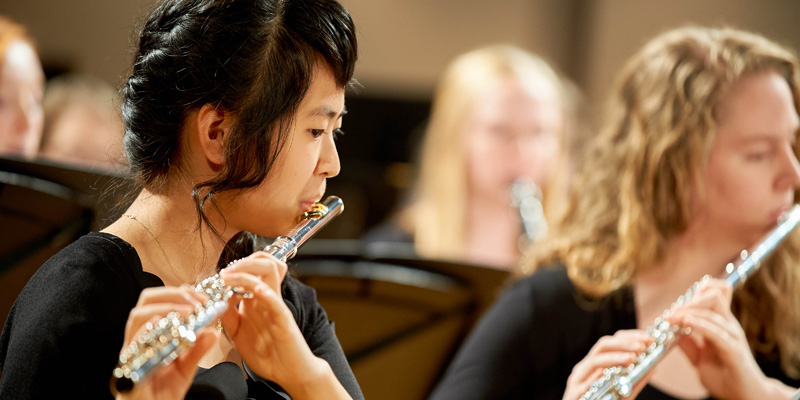 Northwestern College's Symphonic Band will present a movie-themed concert, "Lights, Camera, Action!" on Friday, Feb. 16, at 7:30 p.m. in Christ Chapel. The event is free and open to the public.
The 54-member band, under the direction of Dr. Angela Holt, director of bands and instrumental music education, will perform three pieces by famed movie composer John Williams. The repertoire will include "Soaring with John Williams," a collection of several movie themes; "Jurassic Park Soundtrack Highlights," and "Hymn to the Fallen" from "Saving Private Ryan." The latter piece will be conducted by Jacob Ven Huizen, a 2017 Northwestern graduate with a bachelor's degree in music education.
The ensemble will also play Andrew Lloyd Webber's "Selections From the Phantom of the Opera," "Godzilla Eats Las Vegas!" by Eric Whitacre, and "Over the Rainbow" from "The Wizard of Oz," which will feature soloist Cindy Moeller, adjunct voice instructor.
"We are excited to be presenting an array of classic movie and musical themes," says Holt. "It has been a joy working on this music, and we look forward to sharing this with the community. There should be something for everyone. Come join us as we perform some of our favorites from the screen and stage."
The Symphonic Band will tour in Nebraska and South Dakota April 12–15.The group has been selected as the state's only small-college band to perform at the Iowa Bandmasters Association conference May 10 in Des Moines.
Holt joined Northwestern's faculty last fall after serving as the associate director of wind studies and instructor at the University of Cincinnati College-Conservatory of Music. She previously directed bands at the College of William and Mary in Virginia and a high school in Texas. She earned doctoral and master's degrees in instrumental conducting at the University of Cincinnati College-Conservatory of Music and a bachelor's degree in music education from Wheaton College.