Northwestern to present chamber ensembles concert
Wednesday, November 22, 2017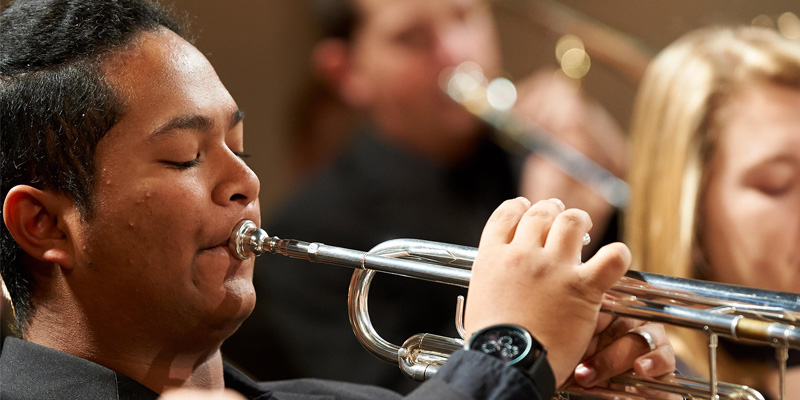 Northwestern College chamber ensembles will present a concert Friday, Dec. 8, at 7:30 p.m. in Christ Chapel. The event is free and open to the public.
The concert will include performances by the brass quintet, woodwind ensemble and a number of string ensembles. The event will feature a wide variety of music, including seasonal selections.
The brass quintet is under the instruction of Dr. Angela Holt, assistant professor of music. The quintet's repertoire will include such works as "Gloria" from Joseph Haydn's "Nelson Mass"; Georg Philipp Telemann's "Allegro Spiritoso," arranged by Arthur Frackenpohl; "Carol of the Bells," arranged by Vance Shoemaker; and "We Wish You a Merry Christmas," arranged by John Rutter.
The woodwind ensemble, also coached by Holt, will present such pieces as "What Wondrous Love is This," arranged by Paul Edwards; Scott Joplin's "The Entertainer," arranged by Jack Marek; "Beneath the Covered Bridge" by Charles Sorrentino; and "Andante et Rondo, Op. 25" by Franz Doppler.
The string ensembles, under the instruction of Dr. Juyeon Kang, professor of music, will demonstrate the different styles of classical chamber music from various eras. Works to be performed include two movements from Giuseppe Tartini's "Sonata for Two Violins and Cello in G Major"; Sergei Rachmaninoff's "Vocalise Op. 34, No. 14," transcribed for cello and piano; two movements from Ludwig van Beethoven's "Serenade for Violin, Viola and Cello in D Major, Op. 8"; and a movement from Claude Debussy's "Piano Trio No. 1 in G Major." Lastly, an ensemble will perform the first movement from Felix Mendelssohn's "String Octet in E-flat Major, Op. 20."