Northwestern College to present Christmas Vespers
Thursday, November 16, 2017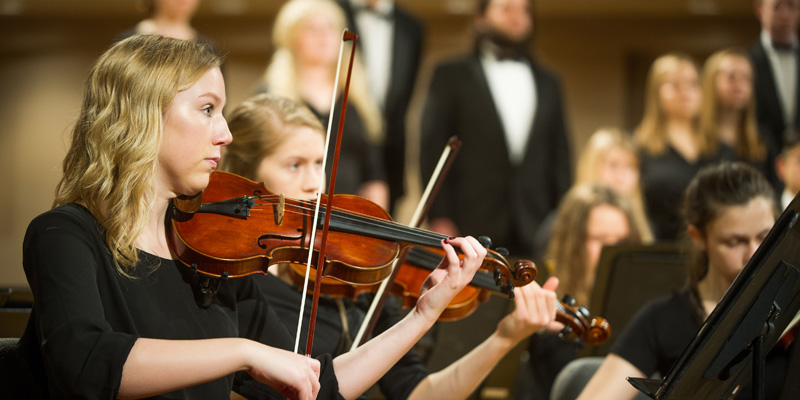 The Northwestern College music department will present its annual Christmas Vespers service on Saturday, Dec. 2, at 7 p.m. and Sunday, Dec. 3, at 3 p.m. in Christ Chapel. The event is free and open to the public.
"Transforming Encounter" is the theme of this year's service. The central portion of the program will be Gian Carlo Menotti's "Amahl and the Night Visitors," a children's opera that tells the story of a young, crippled boy and his mother and their encounter with the wise men and ultimately the Christ child. April Hubbard, associate professor of theatre at Northwestern, is staging and directing the opera.
The concert will include performances by the Brass Ensemble, Women's Choir, A cappella Choir and Chamber Orchestra. It will open with a fanfare by the Brass Ensemble, followed by the A cappella Choir singing "O Come, Emmanuel" by Elaine Hagenberg.
In addition to "Amahl and the Night Visitor," the A cappella Choir will perform another composition by Hagenberg, "Sweetest Music, Softly Stealing."
The Women's Choir will sing "Mary Speaks" by Daniel Gawthrop, "The Hands That First Held Mary's Child" by Dan Forrest, and "Gaudete!" by Michael Engelhardt and join the A cappella Choir in "Hope for Resolution" by Paul Caldwell and Sean Ivory. Also part of the program is the Chamber Orchestra, which will play Handel's "Pastoral Symphony" and the medley "Christmas Day" by Gustav Holst.
The service will also include organ solos by MaryLou Wielenga, Northwestern's organ instructor, as well as opportunities for the audience to join in singing the Christmas carols "O Come, All Ye Faithful" and "Joy to the World."
Doors open 35 minutes before each concert.