Music department to present Raider Days Concert
Wednesday, September 13, 2017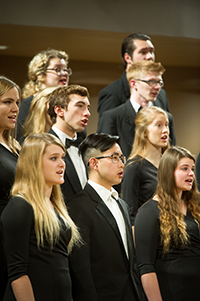 Northwestern College's music department will present its annual Raider Days Concert on Saturday, Sept. 30, at 7 p.m. in Christ Chapel. It will feature performances by the A cappella Choir, Chamber Orchestra, Heritage Singers, Jazz Band, Symphonic Band, Women's Choir and several student soloists. The concert is free and open to the public.
The Jazz Band will open the concert with "A Mighty Fortress," arranged by Chris Sharp, and "Apple Honey" by Woody Herman.
The Women's Choir will sing a variety of pieces, including "The Lake Isle of Innisfree" by Eleanor Daley, "I am His Child" by Moses Hogan and "Beautiful Savior," arranged by Julie Knowles.
The A cappella Choir's repertoire will include "Jesus Met the Woman at the Well," arranged by Stephen Hatfield, and works by Richard Burchard, Christopher Tin and Yu-Shan Tsai.
A movement of Antonín Dvorák's "Serenade for Strings in E Major, Op. 22" will be performed by the Chamber Orchestra, along with a movement from "Serenade for Strings, Op. 3, No. 5" by Joseph Haydn and Roman Hoffstetter.
The Heritage Singers will perform movements from Eric Whitacre's "Animal Crackers: Vol. 1" as well as "Wanting Memories" by Ysaye Barnwell and "It Don't Mean a Thing," arranged by Anders Edenroth.
Mackenzie Phillips, winner of the 2017 Bogaard Strings Competitive Scholarship, will play a viola solo on a Max Reger piece. Tenor Anthony Reno, recipient of the 2017 Cyndy Rowenhorst Vocal Competitive Scholarship, will solo on Stephen Sondheim's "Finishing the Hat." Pianist Joseph Kelly, winner of the 2017 Anthony Kooiker Keyboard Scholarship, will perform a composition by Frederic Chopin.
The Symphonic Band will close the concert with performances of Morton Gould's "American Salute," "On a Hymnsong of Lowell Mason" by David Holsinger and "The Crosley March" by Henry Fillmore.