Northwestern College to present annual Raider Days Concert
Wednesday, September 21, 2016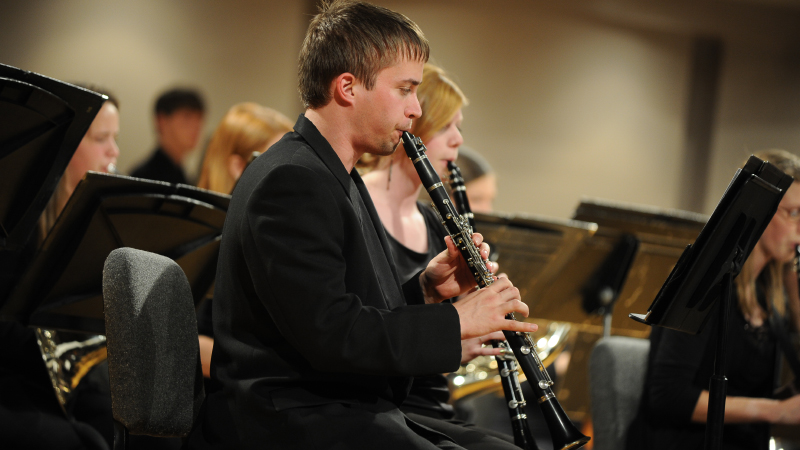 Northwestern College's music department will present its annual Raider Days Concert on Saturday, Oct. 1, at 7 p.m. in Christ Chapel. It will feature performances by the A cappella Choir, Chamber Orchestra, Heritage Singers, Symphonic Band, Women's Choir and several student soloists. The concert is free and open to the public.
The Chamber Orchestra will open the concert with "Cannon in Gigue in D Major" by Johann Pachelbel and "Rhosymedra," a prelude on a Welsh hymn tune, by Ralph Vaughan Williams.
The Women's Choir will perform a variety of pieces, including "Alleluia Incantation" by Andrew Miller; "Amavolovolo," arranged by Rudolf de Beer; "Dirait-on" by Morten Lauridsen; "Arise My Love" by Joan Szymko; and "Worthy to Be Praised!" by Bryon Smith.
Dan Forrest's "Good Night, Dear Heart" will be performed by the A cappella Choir, in addition to "Ride on, King Jesus," a traditional spiritual song arranged by Moses Hogan featuring student soloists Celsey Aswegen, soprano, Mariah Clyde, soprano, and Jacob Ven Huizen, bass; "Ubi caritas," from "Quatre motets sur des thèmes Grégoriens, Op.10" by Maurice Duruflé; and "Libiamo ne'lieti calici" from "La traviata" by Giuseppe Verdi, featuring soloists Bretta Krieg, soprano, and Matthew Shuka, tenor.
The Heritage Singers will perform Irving Fine's "The Lobster Quadrille" from "Alice in Wonderland" and "Blue Skies" by Irving Berlin, arranged by Steve Zegree, and featuring solos by Reghan Harms, alto, Michelle Simpson, guitar, and Andrew Currier, percussion.
The Symphonic Band will close the concert with their performances "Exultate" by Samuel Hazo, "Alleluia! Laudamus Te" by Alfred Reed, and two movements from the "William Byrd Suite" by Gordon Jacob: "Jhon Come Kisse Me Now" and "Wolsey's Wilde."
Alto Amanda Vander Stelt, winner of the 2015 Marion Hinds Hospers Vocal Competition, will solo on Edvard Grieg's "En Drom," accompanied by Northwestern music professor Jaeeun Kim on piano. Other student soloists include Reese Johnson, saxophone, who will perform "Brazileira," the third movement of Darius Milhaud's "Scaramouche"; and Ellie Bleeker, violin, and Mackenzie Phillips, viola, who will perform a duet of George Frederik Handel's "Passacaglia."