Northwestern history professor presents paper at annual meeting
Wednesday, April 4, 2018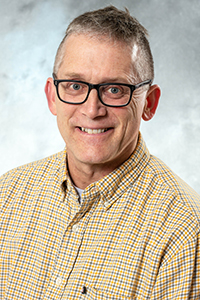 Dr. Michael Kugler, professor of history at Northwestern College, presented a paper at the annual meeting of American Society for Eighteenth Century Studies, held in Orlando, Fla., March 23.
Kugler's essay focused on Adam Ferguson, one of the founding theorists of sociology, and the role Ferguson's Reformed theology played in his theories.
"Ferguson offered historical evidence for the development of social and political order, but without human design," Kugler says. "Doing so, he hoped to defend divine design, countering the philosopher David Hume's naturalist explanations of social order."
According to Kugler, Ferguson's appeals to divine providence were typical of British scholarship in the early 18th century, but his simplification of an inheritance traced back to St. Augustine diminished the power of that tradition for later social science theory.
A member of Northwestern's faculty since 1994, Kugler primarily teaches European history from the Reformation through the modern era. His research and writing topics include the Enlightenment era, historical narrative in a variety of forms, and the history of incarnational theology. He has a doctorate in European intellectual history from the University of Chicago.