History professor presents paper
Wednesday, April 13, 2016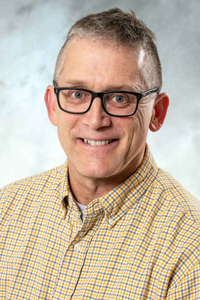 Northwestern College history professor Michael Kugler presented a paper at the joint conference of the American Society for 18th Century Studies (ASECS) and the 18th Century Scottish Studies Society (ECSSS) March 31–April 3 in Pittsburgh.
Kugler's paper, "Providentialist Theology and Divine Conspiracy in Early Anglo-Scottish Enlightenment Social Theory," proposed that the arguments for God's existence and goodness in late 17th and early 18th century Europe increasingly described his activities as a divine conspiracy, secretly maintaining order and coherence in a fallen human world.
"This kind of argument, a version of divine fine-tuning of human nature and society, established the basic foundation for early European social and political theories of unintended consequences and the heterogeneity of ends," says Kugler. "While they were intended to defend God's justice and goodness, they ironically contributed to the diminishment of the neo-Augustinian tradition in Christian natural theology."
The ASECS is an interdisciplinary group dedicated to the advancement of scholarship in all aspects of the time period between the later 17th through the early 19th century. Established the 1969, the organization advances study and research in the history of time that profoundly influenced the world.
ECSSS is an interdisciplinary and international society that examines all aspects of 18th century Scottish culture and society.
A member of Northwestern's faculty since 1994, Kugler primarily teaches European history from the Reformation through the modern era. He holds research interests in the Enlightenment era, particularly in Scotland. He has presented papers at a wide variety of conferences and has published reviews and essays in Fides et Historia, The Eighteenth Century: Theory and Interpretation, and Scotia.
A graduate of Judson Baptist College, Kugler earned a master's degree from Western Washington University and a doctorate from the University of Chicago.