Northwestern students score in 75th percentile on MCAT exam
Wednesday, October 10, 2018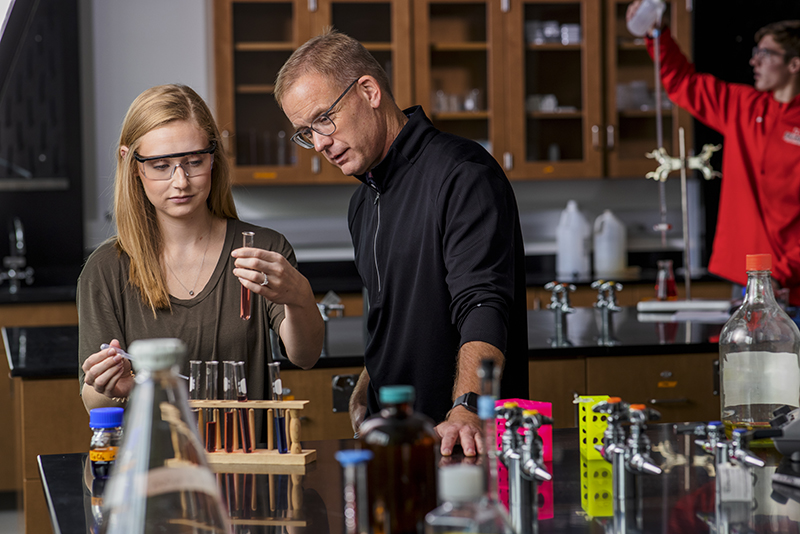 For the second year in a row, Northwestern College students taking the Medical College Admission Test (MCAT) scored among the top 25 percent. The average score of Northwestern students on the 2018 exam was in the 75th percentile. Two students scored in the 91st percentile.
"It's really rewarding to see our students succeed," says Dr. Elizabeth Heeg, associate professor of biology and faculty sponsor of Northwestern's Future Physicians Club. "Our faculty continue to do a high-quality job of teaching students relevant material. That, paired with students understanding how much work it takes and putting in the time, has resulted in great scores on the MCAT. I also think students saw their peers do well on the MCAT last year and realized it was doable."
An additional factor is a voluntary, non-credit pre-MCAT course Heeg offers using the AdaptPrep software she developed with Dr. Tim Huffman, professor of mathematics at Northwestern. Meeting every other week, science students learn about the exam and then do practice questions with the AdaptPrep MCAT software, to which they receive free access.
"AdaptPrep is a software system that from an educational perspective works," says Heeg. "It doesn't negate the importance of class time but reinforces the relevance of what we're doing in class." Several Northwestern faculty members are among the software's content contributors. Developers are continually growing the question bank and making adjustments to the program based on student data.
Heeg says one of the biggest values of her pre-MCAT course is that it gives students a space and time to prepare for the exam. "Students talk with each other about what they're doing to get ready and what they're struggling with. The community aspect is huge; they really support each other through it."
The MCAT is taken by 60,000 to 80,000 students each year. Developed and administered by the Association of American Medical Colleges, it was created to help medical school admissions offices assess candidates' problem solving; critical thinking; and knowledge of natural, behavioral and social science concepts and principles.
Northwestern College science students will soon begin using the new DeWitt Family Science Center, a $24.5 million building that houses classrooms, laboratories, research space and faculty offices for the departments of biology, chemistry and nursing. "We will finally have a facility that reflects the quality of the instruction being given," says Heeg. "What faculty, staff and students have been able to accomplish in the old space has been really significant. We hear all the time from alumni that they were prepared well. I'm hopeful that a bright, new, up-to-date space will be a confidence booster for students, reinforcing that they are receiving a high-quality education."
Among last year's Northwestern College graduates are students who are now pursuing medical studies at the University of Chicago, University of Iowa and Des Moines University. Other recent graduates have enrolled in medical schools at the University of South Dakota, the University of Minnesota-Duluth, Rush Medical College and Rosalind Franklin University in Chicago, and Kirksville College of Osteopathic Medicine in Missouri. Eighty percent of Northwestern's science majors headed to medical school are accepted the first time they apply; the national matriculation rate for all medical school applicants is just 45 percent.
"It's exciting for me to see our students get into medical school," says Heeg, "because they are individuals with a strong moral and ethical compass who want to do good for other people because of their Christian faith."