Dr. Elizabeth Heeg '01 Professor of Biology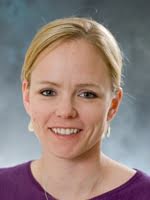 Education:
Ph.D., Northwestern University
B.A., Northwestern College
712-707-7009
elizabeth.heeg@nwciowa.edu
SCI 227
Dr. Heeg completed her Ph.D. in the department of BMBCB (biochemistry, molecular biology and cell biology) at Northwestern University. She has published several articles in journals such as Current Biology and Developmental Biology.
As a graduate student, Elizabeth received training grants from the National Institutes of Health for her research. She was also a teaching assistant at Northwestern University, earning the 2003 Teaching Assistant of the Year Award. Her dedication to education continues and she was recognized as Northwestern College's Teaching Excellence Award winner in 2010.
As a member of the National Association of Advisors for the Pre-Health professions (NAAHP) and having advised pre-med majors for over 15 years, Dr. Heeg has paired with AptarePrep to create an affordable MCAT preparation software. This software is unique to other prep materials that are commercially available in that it gives students feedback on their progress and readiness to take the actual MCAT. AptarePrep is designed to build student confidence through a practice-based learning software system. Northwestern College pre-medical students are able to access this software for free when working with Dr. Heeg. To learn more about AptarePrep, use the following link www.aptareprep.com
Other research that Dr. Heeg is working on or has participated in includes 1) utilizing PCR to identify phage cluster members early on in the SEAPHAGES process, 2) collaboration with the University of Iowa to investigate methicillin-resistant Staphylococcus aureus (MRSA) infections in northwest Iowa. The study was being funded by a grant from the Centers for Disease Control and the National Institute for Occupational Safety and Health; 3) examining the presence of MRSA in athlete and non-athlete populations on campus; 4) examining water metabolism in two rat lines that have been selectively bred for low renin and high renin activity; and 5) utilizing PCR as a Possible Means for Sex Determination of Eastern Redcedar (*Juniperus virginiana*).

BIO102SN - Human Anatomy and Physiology
(4 credits)(NWCore option under Science and the Natural World) An introduction to the structure and function of the human body. Note: Includes 1 1/2 hours of lab per week. Does not count toward a biology major or minor. A fee is associated with this course.
BIO203 - Microbiology
A study of the morphology and physiology of microorganisms with special emphasis on bacteria and viruses. Those organisms that have an economic or medical importance will be highlighted, and basic laboratory techniques will be stressed.Prerequisites: BIO115SN or BIO122 and CHE102 or CHE108SN or CHE112.(4 credits)
BIO327WI - Biochemistry: Molecular Genetics
(4 credits)(Writing intensive) This course focuses on the structure and function of nucleic acids and examines the biochemical techniques involved in gaining knowledge regarding replication, transcription and translation of genetic information, and control of gene expression. Note: Includes 3 hours of lab per week. Prerequisites: BIO115, CHE321 and 322.
BIO350 - Special Topics
Courses and topics which are of special interest to faculty and students but which are not offered on a regular basis may be assigned this number. Examples of such offerings would be developmental biology, cardiovascular physiology and virology. Extended field trips for which credit is offered also fall into this category. Prerequisites: appropriate 200-level biology courses. (2-4 credits; non-yearly, consult department)
BIO450SR - Science and the Christian Faith
Science and Christian Faith is a senior seminar course designed for biology and chemistry majors. The course revisits the three FYS course questions: Who am I? Who are my neighbors? How will we live in the world? Our thoughtful examination of these three questions will draw on knowledge gained from your biology and chemistry courses, but also integrates broadly with your liberal arts education (religion, philosophy, etc.) as we explore questions of origins, creation care, and bioethics and through the lens of Christian faith and theology. The readings, written assignments, oral presentations, and discussions will lead us to consider how God calls us, as scientists and people of faith, to be agents of redemption in our world. Prerequisites: senior biology or chemistry major. Junior biology or chemistry majors who cannot take this course during their senior year may request permission from their advisor who will consult with the department chairs to register. (3 credits) (Cross-referenced in chemistry)
AAMC Advisor – Association of American Medical Colleges
NAAHP -- National Association of Advisors for the Health Professions
CAAHP -- Central Association of Advisors for the Health Professions
AAS – American Association for the Advancement of Science
NABT -- National Association of Biology Teachers
Faculty Advisor for Future Physicians Club.
Teaching Excellence Award, Northwestern College, 2010
Teaching Assistant of the Year, Northwestern University, 2003