Elizabeth Heeg Associate Professor of Biology; Co-director of the Honors Program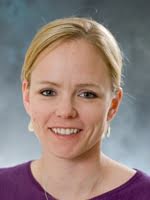 Education:
Ph.D., Northwestern University
B.A., Northwestern College
712-707-7009
elizabeth.heeg@nwciowa.edu
VPH 211
Elizabeth has a doctorate in biochemistry, molecular biology and cell biology from Northwestern University. She has published several articles in journals such as Current Biology and Developmental Biology.

As a graduate student, Elizabeth received training grants from the National Institutes of Health for her research. She was also a teaching assistant at Northwestern University, earning the 2003 Teaching Assistant of the Year Award. Her dedication to education continues and she was recognized as Northwestern College's Teaching Excellence Award winner in 2010.
Currently, Dr. Elizabeth Heeg and several NWC students are teaming with researchers at the University of Iowa and physicians at the Hawarden Community Clinic to investigate methicillin-resistant Staphylococcus aureus (MRSA) infections in northwest Iowa. The study is being funded by a grant from the Centers for Disease Control and the National Institute for Occupational Safety and Health.
Other research that Dr. Heeg is working on or has participated in includes 1) examining the presence of MRSA in athlete and non-athlete populations on campus; 2) examining water metabolism in two rat lines that have been selectively bred for low renin and high renin activity; and 3) utilizing PCR as a Possible Means for Sex Determination of Eastern Redcedar (Juniperus virginiana).
BIO203 - Microbiology
(4 credits)A study of the morphology and physiology of microorganisms with special emphasis on bacteria and viruses. Those organisms that have an economic or medical importance will be highlighted, and basic laboratory techniques will be stressed.Prerequisites: BIO115, 116 and CHE101, 102 or CHE111, 112.There is a fee associated with this course (http://www.nwciowa.edu/tuition/fees).
BIO350 - Special Topics
(2-4 credits; alternate years, consult department)Courses and topics which are of special interest to faculty and students but which are not offered on a regular basis may be assigned this number. Examples of such offerings would be developmental biology, cardiovascular physiology and virology. Extended field trips for which credit is offered also fall into this category. Prerequisites: appropriate 200-level biology courses. A fee is associated with this course (http://www.nwciowa.edu/tuition/fees).
AAMC Advisor – Association of American Medical Colleges.
Professional Member – American Association for the Advancement of Science (AAAS).
National Association of Biology Teachers (NABT) member.
Faculty Advisor for Future Physicians Club.
Teaching Excellence Award, Northwestern College, 2010
Teaching Assistant of the Year, Northwestern University, 2003