Northwestern biology professor presents at symposium
Friday, September 29, 2017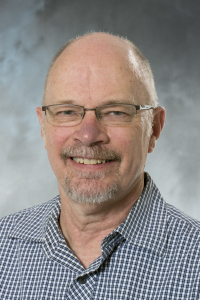 Dr. Byron Noordewier, professor of biology at Northwestern College, presented at the Iowa Microscopy Society's annual symposium in Iowa City on Sept. 27.
Noordewier's presentation described Northwestern's SEA-PHAGES (Science Education Alliance-Phage Hunters Advancing Genomics and Evolutionary Science) research course of study. To begin the two-semester sequence, students in microbiology obtained soil samples looking for new viruses. Students performed a variety of microbiology techniques to isolate those viruses, purify the viruses, and characterize them using DNA isolation, restriction digestion and electron microscopy. The electron microscopy was done at the Central Microscopy Research Facility at the University of Iowa and was funded by a Better Futures for Iowans grant from the university.
During the 2016–17 academic year, the first year for Northwestern's SEA-PHAGES program, students discovered 16 different mycobacteriophages of various morphologies. This fall, these sequences will be the subject of complex genome annotation and bioinformatic analyses by Northwestern genetics students.    
A nonprofit affiliate of the Microscopy Society of America, the Iowa Microscopy Society seeks to bring together people interested in microscopy and to foster the exchange of ideas and information.
Noordewier earned a doctoral degree from the University of Utah and a bachelor's from Westmont College. Prior to joining Northwestern's faculty, he taught at Michigan State University, the University of North Dakota School of Medicine and the Creation Care Study Program in Belize. Noordewier was the 2015 recipient of Northwestern's Faculty Inspirational Service Award.