Exhibit to feature work by Northwestern art professor
Friday, September 16, 2016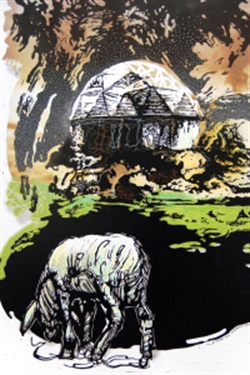 Emily Stokes, an assistant professor of art at Northwestern College, will display her work in Northwestern's Te Paske Gallery Sept. 26 through Oct. 28. An opening reception is scheduled for Monday, Sept. 26, at 7 p.m.
Stokes is calling her exhibit "Vigilant Being." Her work takes cues from the ways in which artists have carefully staged coded imagery to build plural meanings or reveal aspects of their faith in their work. She draws from references as varied as Dutch Golden Age painters to 20th century Works Progress Administration-era artists. Recurrent iconography—such as haystacks, animals and ice—are choreographed with imaginative interpretations of her surroundings.
The show will include four series of work. Three of those series feature a combination of printmaking, painting, and in some cases, digital imaging. She first makes prints on paper, then mounts the prints on wood, cuts the wood into organic shapes, and adds drawing and painting. "Vigilant Being" will also include an in-progress sculptural work of interlocking wooden panels that features a panoramic scene.
Stokes joined Northwestern's faculty in 2011 after earning a Master of Fine Arts degree in printmaking from Arizona State University. Her work has been featured in juried printmaking and all-media exhibitions in 15 states ranging from New York to Washington and Louisiana to Minnesota. She won the purchase award at the 29th Annual McNeese Works on Paper juried exhibition and was selected for the Council of Independent Colleges Summer Seminar, "Dutch Art, Patrons and Markets," at the High Museum of Art in Atlanta.
Stokes has served as a panelist at the Mid-American Print Council and the Southeastern College Art Association conferences. She has lectured as a visiting artist at Owens Community College in Toledo, Ohio, co-juried a student exhibition at Morningside College in Sioux City, and spent a summer as a resident artist at Wilson College in Chambersburg, Pa. She is also a member of the Orange City Arts Council.
Northwestern's Te Paske Gallery is located in the Thea G. Korver Visual Arts Center, on Highway 10 at 214 8th Street SW in Orange City. Gallery hours are 8 a.m. to midnight Monday through Saturday and 1 p.m. to midnight Sunday.