Phil Scorza Associate Professor of Art and Design; Department Chair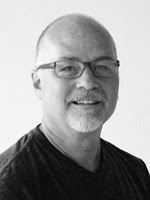 Education:
M.F.A., Lesley University
B.A., Iowa State University
712-707-7003
phils@nwciowa.edu
TGK 112
Professor Scorza's interests and experience lie in the area of graphic design and photography. He teaches Introduction to Studio, photography and the graphic design courses for the department. A former Northwestern College student, he earned a bachelor's degree in graphic design from Iowa State and a Master of Fine Arts from Lesley University College of Art and Design. Prior to joining Northwestern's faculty, he established a career as a graphic designer and creative director for over 20 years, both in the corporate setting and as a freelancer. He frequently uses his art to serve nonprofit and community-based organizations.
ART164 - Photography I
(2 credits) Taught as a medium of creative expression or as an art form and as a journalistic tool. Film processing and printing are taught as well as camera techniques, darkroom procedures and presentation of work for exhibitions. A fee is associated with this course.
ART220 - Graphic Design I
Graphic Design 1 is an introduction to the computer applications used in the communication, design and publishing fields. There will be an introduction to graphic design problems and projects in order to learn how these applications all work together. (4 credits)
ART265 - Photography II
(2 credits)The fundamentals of photography as an art medium and a journalistic tool are used to develop an individual style or method of composing and printing photographs. This individual aesthetic approach will be seen in all the work presented at the end of the c ourse. Prerequisite: ART164. A fee is associated with thsi course.
ART320 - Graphic Design II
August 2009 - faculty exhibition at the Te Paske Gallery Northwestern College
January 2008 - The Briar Cliff Review. A black and white photograph entitled Moonflower was selected for publication in the Volume 20 issue. Photo on view in the Sioux City Art Center.
November 2006 - solo show entitled dè•já vu at the Te Paske Gallery Northwestern College
Artist Statement
The act of creating art is a process in which the actual creation of the work takes on a life of its own. It starts as an idea that involves problem solving and a great deal of planning. I tend to have the piece completed in my head and can visualize the final object completed before I physically start art making. In the end, I want to be as captivated by my work as everyone else. To me, creating art is as much about the process as it is the final piece.
In my work, I transfer elements and apply them to the surface along with layers of different types of media that produces a visually more interesting piece. This layering creates an excitement, as well as a richness and depth to my work. I use easily recognizable images that are intended to give the viewer a sense of familiarity with what they are looking at and hopefully will draw them in closer. Once in closer, there is a connection and the familiar is seen in a different way; being juxtaposed with something unexpected. It's the illusion of having previously experienced something even though you are encountering it for the first time. When I experience this myself, it's uncomfortably familiar.