Teaching Excellence Award goes to Monsma
Saturday, May 10, 2014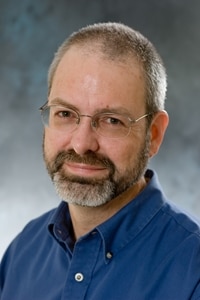 Dr. Scott Monsma, professor of sociology at Northwestern College, has been named this year's recipient of the Northwestern Teaching Excellence Award. He was honored during the college's commencement ceremony on May 10.
Sponsored by the Alumni Association, the award is administered by a selection committee made up of members of the Student Government Association and the Sigma Tau senior honor society, along with past award winners and a representative of the Faculty Development Committee. Students nominated 13 professors for the honor, and the committee chose Dr. Karissa Carlson, associate professor of chemistry; Ray Gibler, assistant professor of accounting; Dr. Michael Kensak, professor of English and German; and Dr. Wayne Westenberg, associate professor of mathematics education, as finalists along with Monsma.
The major factor used in selected the award winner is evidence of strong teaching ability. The committee looks at faculty vitae, service reports and course evaluations in addition to the comments of nominators.
A member of Northwestern's faculty since 1999, Monsma is described as a professor who creates a learning environment in which everyone is encouraged to participate. "Dr. Monsma goes above and beyond to ensure that his students are able to do the best they can," says junior sociology major Logan Gooch of Sioux Falls. "He has shaped my way of thinking and transformed me from an OK student to an excellent learner.
"He has opened my eyes to many social justice issues and has pushed me to pursue God's redeeming work in this world," Gooch continues. "While I do not agree with him on everything, he is more than willing to listen to my opinions on issues and help me shape what I believe, not just transpose his personal beliefs onto me. His desire is for his students to be able to look at the facts and derive their own opinions. This ethos will allow me to be able to continue learning for the rest of my life."
Monsma is known for his frequent use of puns, which Gooch says helps students feel at ease and share freely. "His humor, while poor at times, has been a great asset to his classes. It breaks tensions and makes a very relaxed classroom setting."
During his time at Northwestern, Monsma has led students on study abroad trips to Taiwan and Oman. Chairperson of the sociology department, he has been instrumental in the creation of Northwestern's new criminal justice major and minor. Monsma also serves as Northwestern's faculty secretary and has been an adviser to the Student Government Association, co-chair of the Honors Program and member of the Library Planning Task Force.
Monsma is a former president of the Association of Christians Teaching in Sociology and frequently presents at its conferences. He earned doctoral and master's degrees in sociology from the University of Pittsburgh and completed his undergraduate studies at Pennsylvania's Geneva College.