First Amendment expert to speak at Northwestern College
Wednesday, October 25, 2017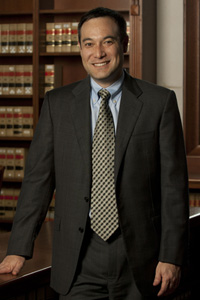 Dr. John Inazu, an expert in the First Amendment freedoms of speech, assembly and religion, will visit Northwestern College Tuesday, Nov. 7.
Inazu will give a chapel address, titled "Held Together: Thriving Through Deep Difference," at 11:05 a.m. in Christ Chapel. He will also speak at a 12:15 p.m. luncheon in the Vogel Community Room of the DeWitt Learning Commons. The chapel address is open to the public; the luncheon is free but seating is limited. Those interested in attending should email lyf@nwciowa.edu by noon on Friday, Nov. 3.
Inazu is a professor of law and religion at Washington University in St. Louis and the author of "Confident Pluralism" and "Liberty's Refuge: The Forgotten Freedom of Assembly." His writings have appeared in Christianity Today, USA Today and The Washington Post, and his work received praise from the Rev. Timothy Keller, founding pastor of Redeemer Presbyterian Church in New York City.
During Inazu's time at Northwestern, he will discuss how people of faith can respond to the nation's fractured public discourse while respecting diverging political, religious, racial and cultural perspectives. Inazu maintains it is possible to live together peaceably in spite of deep and sometimes irresolvable differences through what he terms "confident pluralism"—a mindset characterized by graciousness, humility and patience.