Northwestern College nursing professor earns doctorate
Friday, August 17, 2018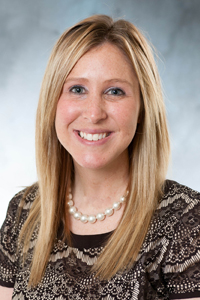 Tatum Geerdes, instructor in nursing at Northwestern College, has earned a Doctor of Nursing Practice degree from American Sentinel University.
Geerdes' capstone project was titled "The Impact of a HESI Pharmacology Online Self-Study Course on HESI Pharmacology Specialty Exam Scores." Her study led Geerdes to believe that embedding the Pharmacology Online course throughout the nursing curriculum could strengthen students' pharmacology knowledge and better prepare them for the National Council Licensure Examination for Registered Nurses (NCLEX-RN). She plans to continue the study to see if that is the case.
A member of Northwestern's faculty since 2014, Geerdes previously taught nursing at Northwest Iowa Community College and served as a clinical nursing instructor for Iowa Central Community College and Mercy College of Health Sciences. She is a registered nurse who has worked in the surgical unit at the Mayo Clinic in Rochester, Minn., and in labor and delivery at the Mary Greeley Medical Center in Ames, Iowa. She earned a Bachelor of Science in Nursing degree from the University of Iowa and a Master of Science in Nursing from Allen College in Waterloo, Iowa.