Northwestern nursing professor presents at national conference
Thursday, November 16, 2017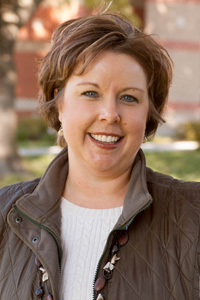 Dr. Karie Stamer, director of Northwestern's online RN to BSN program and assistant professor of nursing, presented at the national Professional Nurse Educators Group conference in Pittsburgh, Pa., recently.
Stamer was selected to present her research on the impact emotional intelligence education has on emotional intelligence levels of online RN to BSN students. After students took a pretest during an orientation course in Northwestern's online RN to BSN program, the course included a unit on emotional intelligence, reflective discussions and journaling, and a service project with reflective writing. Following a posttest, her research showed that students who are able to attain higher levels of emotional intelligence within their educational process will not only be more likely to complete the program, but better equipped to handle the stressors of the nursing profession.
"If nurse educators are able to increase emotional intelligence levels through targeted interventions utilizing affective and cognitive learning strategies, students will be better prepared for the coursework as well as the workforce they will be entering," says Stamer.
At the Professional Nurse Educators Group conference, nurse educators from colleges, universities and healthcare institutions from across the nation presented research on topics related to decreasing the gap between education and practice within the nursing profession.
Stamer earned a Doctor of Nursing Practice degree from American Sentinel University, a master's in nursing degree from Nebraska Methodist College, a bachelor's in nursing from the University of Iowa and a registered nurse diploma from St. Luke's School of Nursing. Prior to joining Northwestern's faculty, she taught at Northwest Iowa Community College and worked as a nurse manager and floor nurse at Orange City Area Health System.