Science building fundraising progress announced
Monday, April 10, 2017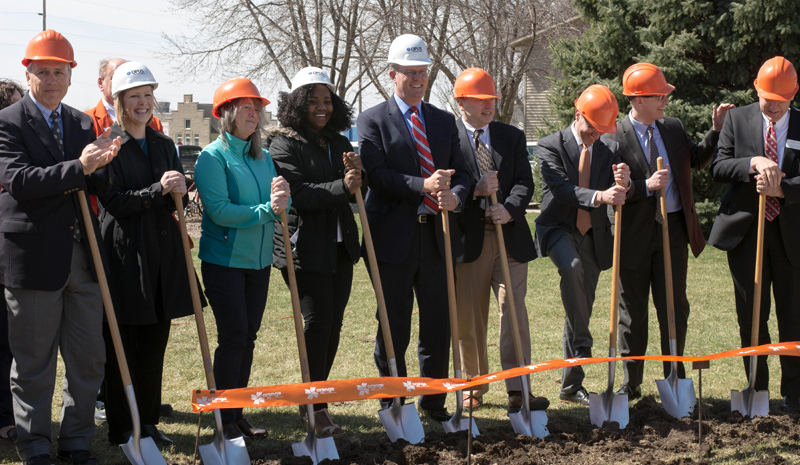 View more groundbreaking photos on Facebook
Northwestern College President Greg Christy announced receiving additional gifts of $2.3 million in the past week at the groundbreaking ceremony for the new health and natural sciences center on Friday, April 7, pushing the total for the Discover Campaign to $26.1 million. Less than $3.9 million remains to be raised to reach the campaign's $30 million goal, which includes $24.5 million for the new facility and $5.5 million for its maintenance, science scholarships and student research.
"We have seen the hand of God and the people of God responding to that prompting," Christy said about the fundraising progress, which is twice as much as has been raised for any single building in Northwestern's history. He cited a new culture of volunteer campaign leadership and strong commitment from the Board of Trustees among the many reasons for the success.
Construction will begin May 1 on the 61,000-square-foot facility, which will house classrooms, laboratories and faculty offices for the departments of biology, chemistry and nursing. The eco-friendly facility, located on the southwest corner of the campus green, will also include increased space for student and faculty research. Scheduled to be completed by the fall of 2018, the building will create a grand west entrance to the campus on Highway 10.
Speaking on behalf of all science students at the ceremony, biology-health professions major Nnenna Nwaelugo said, "We are excited for a facility with state-of-the-art lab equipment, more elbow room in labs and classrooms, and a greenhouse. It's almost too good to be true. Our faculty already do such a great job with what we have, I'm excited to see what more they will be able to do." The sophomore from Nigeria said the facility will make a huge statement about Northwestern's courageous and faithful presentation of scientific learning.
Dr. Laurie Furlong, professor of biology and department chair, said it's difficult for the science faculty to express how excited they are. "The biology, chemistry and nursing departments will be able to more effectively collaborate and coordinate our efforts. This will be a place for courageous exploration, energetic study, grateful service and enthusiastic worship."
Jay Wielenga, vice president for advancement, says college officials and volunteers are continuing their efforts to wrap up the campaign. "Many people are still considering gifts, and we are actively encouraging our constituents to help us reach our $30 million goal. We have seen God bless this project in amazing ways, and we are excited to see what more he has in store for us."
For more information about the campaign, and to donate, visit www.nwciowa.edu/discover.