Northwestern to break ground for new science building
Monday, April 3, 2017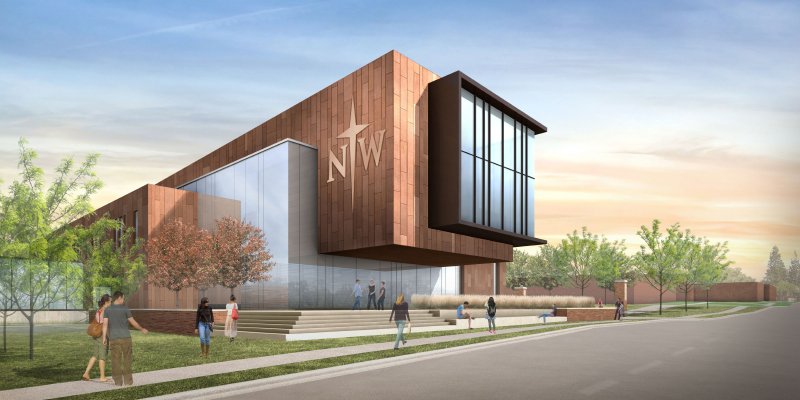 View groundbreaking photos on Facebook
Northwestern College will break ground for its new health and natural sciences center during a ceremony at noon on Friday, April 7. The public is invited to attend the event, which will be on the building's site on the southwest corner of the campus green, just west of the Ramaker Center.
The 61,000-square-foot facility will cost approximately $24.5 million and will house classrooms, laboratories and faculty offices for the departments of biology, chemistry and nursing. The eco-friendly facility will also include increased space for student and faculty research. Scheduled to be completed by the fall of 2018, the building will create a grand west entrance to the campus on Highway 10.
"We are excited to officially commemorate the beginning of construction," says President Greg Christy. "This project will honor the outstanding scientific talent Northwestern has been blessed with—students, professors and alumni—with an investment that will nurture and multiply that talent and unleash its redemptive power in God's world."
A brief program during the groundbreaking will include remarks by Christy; Marty Guthmiller, chair of Northwestern's Board of Trustees; Jay Wielenga, vice president for advancement; Dr. Laurie Furlong, professor of biology and department chair; and Nnenna Nwaelugo, a sophomore biology-health professions major from Nigeria. Also present will be the Orange City Ambassadors and representatives of Cannon Moss Brygger Architects in Sioux City and the Opus Group of Minneapolis, the project's construction manager.
More than 300 of Northwestern's 1,260 students are health or natural science majors pursuing degrees in biology, chemistry, nursing, biochemistry, ecological science, or genetics, molecular and cellular biology. Northwestern also offers pre-professional tracks in medicine, pharmacy, physical therapy and other allied health fields.
Enrollment in Northwestern's science labs has grown by 58 percent in the last decade, while average class sizes in the sciences have increased by 41 percent. As a result, Northwestern's science facilities have been stretched to the limit.
"Northwestern has enjoyed a strong reputation in the sciences since we became accredited as a four-year institution in the 1970s," says Christy, "and part of the reason for that strength—and a real distinctive of Northwestern—is the compelling way our professors integrate science and faith. They pursue both their scientific exploration and their desire to know God with bold curiosity and a deep trust that what they discover in the natural world reveals something about God."
Wielenga says sacrificial giving by Northwestern's constituents has resulted in the largest amount of money being contributed to a single-building fundraising campaign in the college's history. "We are actively encouraging people to be involved in a number of ways, including contributing to the facility's maintenance endowment, science scholarships and student research, in addition to wrapping up funding for the building," he says. For more information about the campaign, and to donate, visit discover.nwciowa.edu.