Northwestern alumna named nurse of the year
Wednesday, November 11, 2015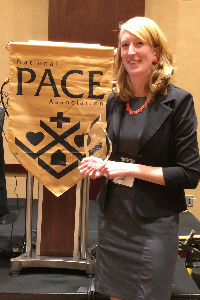 Becky (Swart) Hille, a 2009 Northwestern College graduate, was recently named 2015 Nurse of the Year by the National PACE Association Nursing Consortium.
Hille was presented the award—the organization's highest nursing honor—during its national conference in Philadelphia. The association advocates for frail older adults enrolled in the Medicare and Medicaid Program of All-Inclusive Care for the Elderly (PACE), which helps people meet their health care needs in the community instead of moving into a nursing home or other care facility.
A nurse at Community Care in Milwaukee, Hille was honored in part for the care she provided a woman with an advanced cancer diagnosis. The patient didn't have family or friends to turn to, so Hille attended the woman's medical appointments with her, helped her understand all treatment options and provided support during the patient's emotional journey.
Hille was nominated for the award by Cathy Rapp, Community Care's clinical services officer.
"This woman is doing far better than expected, in large part because Becky decided to take the time to truly care for her," says Rapp. "Becky, through her never-ending compassion and dedication, touches members like this every day. She really is a nurse's nurse—bright, exceptionally skilled, compassionate and committed."
Hille credits Northwestern College's nursing program for shaping her into the health care professional she is. "Northwestern's nursing courses in public health and geriatrics really guided me toward what I am passionate about: case management for older adults," says Hille. "The nursing program also stressed a holistic approach to nursing care which is so important in case management."