Northwestern nursing prof earns doctorate
Wednesday, August 26, 2015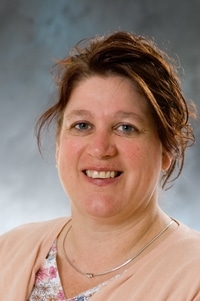 Julie Dragstra, assistant professor of nursing at Northwestern College, has earned a doctorate in education from the University of South Dakota.
Dragstra's dissertation, "Nursing Students' Use of Care Plan: Promoting Clinical Reasoning and Critical Thinking in Nursing Education," described the design of a new care plan for nursing students that would assist them in treating their patients in a more holistic way.
"The goal of my research was for the new care plan to increase critical thinking skills in nursing students; to help them see their patient in context and determine what information is relevant in understanding and providing care," says Dragstra. "I also wanted to design a plan that would help students connect what they learn in the classroom to the real world of nursing."
Dragstra used the Self-Assessment of Clinical Reflection and Reasoning (SACRR) tool as a pre-post survey of nursing students' perceptions of their levels of critical reasoning and thinking. The SACRR test results, in addition to charted student growth over the course of a semester, showed that nursing students responded positively to the care plan.
Prior to joining Northwestern's faculty in 2008, Dragstra practiced nursing in orthopedics, home health, hospice care and public health settings. After earning an R.N. from St. Joseph Mercy School of Nursing, she went on to earn a bachelor's of science in nursing from Briar Cliff University and a master's degree from Augustana College in Sioux Falls, S.D.