Northwestern nursing prof publishes article
Wednesday, April 1, 2015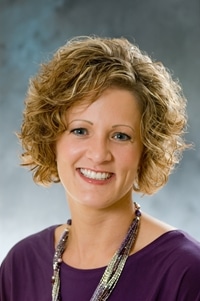 An article written by Dr. Michelle Van Wyhe, assistant professor of nursing at Northwestern College, has been published in the April/June 2015 issue of Journal of Christian Nursing.
Van Wyhe's article, "Vocation of Faith: The Influence of Mother Teresa on Christian Nursing" is featured in the journal's Retrospect Column, a segment that features a person from nursing history who makes an application to nursing today. The article will run in two parts, with the continuation published in the July/September issue.
Van Wyhe was inspired to write the article through her tenure process at Northwestern. "I have always been intrigued by Mother Teresa," said Van Wyhe. "Although she was never a nurse, she had so many qualities which were consistent with Christian nursing. Like many nurses, Mother Teresa felt called to her vocation; she was devoted to God and his children, and she professed her faith through her words and actions."
The Journal of Christian Nursing is a peer-reviewed quarterly journal that has sought to help nurses integrate issues of faith with nursing practice since its creation in 1984. With a mission to help nurses, students and educators practice nursing from a Christian perspective, the journal prints original research on current issues and trends, spiritual care, ethics, healing and wholeness, faith community nursing, healthcare missions and more.
A member of Northwestern's faculty since 2007, Van Wyhe also serves as a nurse practitioner for Northwestern's Wellness Center. A board-certified advanced registered nurse practitioner, Van Wyhe is also a member of the family practice medical staff at Orange City Area Health System. A graduate of Augustana College, Van Wyhe holds a master's degree in nursing, with a family nurse practitioner emphasis, and a Doctor of Nursing Practice degree from South Dakota State University.