Northwestern to host nursing camp
Thursday, August 30, 2012
Northwestern College will host a Nursing Mini-Camp for high school juniors and seniors considering careers in nursing. The day camp will be held Tuesday, Sept. 25, from 8:45 a.m. to 2 p.m.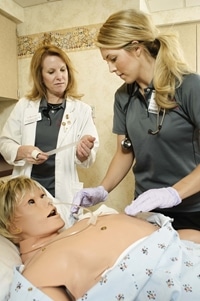 Jointly presented by the college's nursing and admissions departments, the camp will serve the needs of both students and parents. Activities will include a simulated clinical experience, a campus tour, and a luncheon with current nursing students and faculty.
"Our nursing students will share with high school campers all about daily life in this field," says Dr. Ruth Daumer, chair of the nursing department. "Our nursing faculty and students know what questions high schoolers should ask to separate good nursing programs from mediocre ones."
Information will be presented about career opportunities, financial aid and admission at Northwestern. A question and answer session will be offered for both students and parents.
Interested high school juniors and seniors must pre-register by Tuesday, Sept. 11. The registration fee is $10. Space is limited. An additional nursing camp will be offered Friday, Nov. 16.
The registration form is available for download at www.nwciowa.edu/nursing. The form can also be requested from Pam Reints, nursing department assistant, at 712-707-7220 or preints@nwciowa.edu.
Northwestern's nursing department offers a Bachelor of Science in Nursing degree (B.S.N.). The college's Nursing Arts Laboratory includes advanced human patient simulators.
Distinctive features of Northwestern's nursing program include more than 800 hours of clinical experience, multiple opportunities for healthcare-related mission projects, and a biennial study abroad course in Tanzania.
Northwestern's nursing program is accredited by the Commission on Collegiate Nursing Education and approved by the Iowa Board of Nursing. In 2012, all 19 of Northwestern's graduating nursing students passed their Iowa Board of Nursing exam on the first attempt.