Nursing prof earns M.S.N. degree
Wednesday, August 22, 2012
Carol Kleyer, an instructor of nursing at Northwestern College, has earned a master's of science in nursing (M.S.N.) degree from Briar Cliff University after successfully defending her thesis this summer.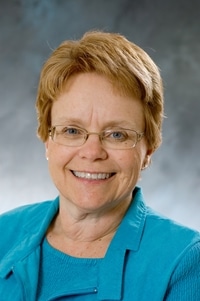 An experienced nurse manager and charge nurse in long-term care settings, Kleyer conducted research exploring the lived experience of nursing home residents. She compared existing research about disappointment in the nursing home experience, the importance of relationships, and coping mechanisms for enduring the "everydayness of life" in a nursing home to data she collected through in-depth interviews with eight nursing home residents.
Nurses are in a key position to assist nursing home residents during changes in their lives through person-centered care, Kleyer concluded in her thesis. Practicing nursing in a long-term care setting enables the formation of significant relationships with patients and their families, says Kleyer, whereby nurses can play a role in ensuring older adults experience meaning and joy despite the limitations of their new living situation.
Kleyer's research will inform her teaching; her focus as a nursing professor is on gerontology and the health and wellness needs of older adults. "Whether my nursing students work in long-term care or not, they'll likely care for older adults sometime during their practice," she said, "especially with the large numbers of baby boomers aging and requiring care in both home and institutional settings."
Kleyer's work will also serve the Orange City Area Health System as administrators plan construction of a new nursing home and develop a philosophy of care and living for the center.
Kleyer joined Northwestern's nursing faculty in 2010 after practicing nursing at healthcare settings in both Rock Valley and Orange City. She earned her B.S.N. degree at Morningside College.