Kinesiology professor earns doctorate
Wednesday, April 1, 2015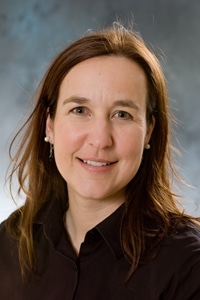 Jennifer Rogers, assistant professor of kinesiology and athletic training program director at Northwestern College, has earned a doctorate in athletic training from Rocky Mountain University of Health Professions.
Rogers' dissertation, "Student-Athlete Perceptions of Athletic Trainers' Competence Based on Appearance and Dress," examined whether body type and dress of an athletic trainer affected students' perceptions of the trainer's competence. Rogers collected data from a quantitative survey of over 150 college student-athletes.
"My research indicated student-athletes perceive a relationship between an athletic trainer's physical appearance and competence," says Rogers. "More specifically, student-athletes perceive a non-obese and professionally dressed athletic trainer as more competent than the alternative."
A member of the college's faculty since 2003, Rogers previously served as the head athletic trainer for Northwestern College as well as an outreach athletic trainer for Center for Neuroscience, Orthopedic and Spine in Sioux City, Iowa. A graduate of Briar Cliff University, Rogers earned a master's degree in education with an emphasis in biomechanics and sport psychology from the University of Kansas.