Northwestern dedicates DeWitt Family Science Center
Tuesday, October 2, 2018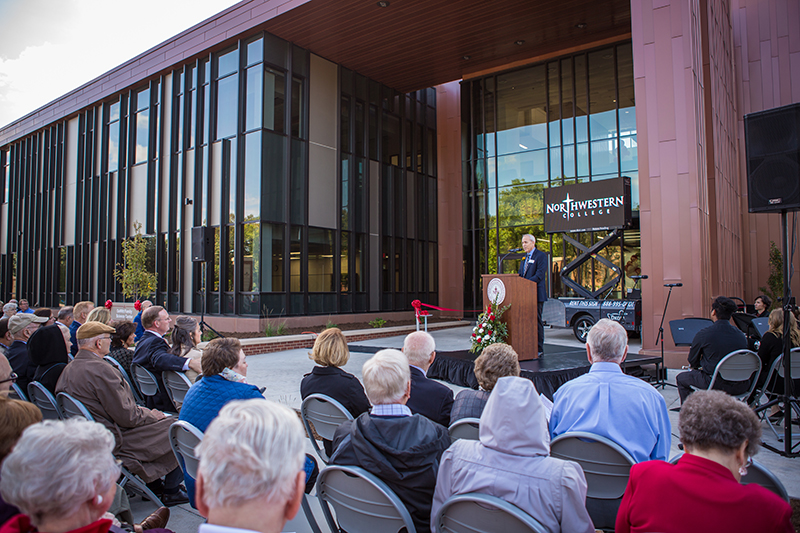 Watch students talk about the new science building ¦ View dedication photos ¦ View construction photos
KMEG story ¦ KTIV story ¦ KLEM story ¦ Northwest Iowa Review story
More than 400 people gathered for the dedication of Northwestern College's new Jack and Mary DeWitt Family Science Center on Friday afternoon, Sept. 28.
"This facility is ultimately about investing in the lives of students and equipping them for God's purposes," said Dr. Bryan Den Hartog '81, a St. Paul, Minn., orthopedic surgeon who is on Northwestern's Board of Trustees and chaired the Discover Campaign Committee.
Built for a total of $24.5 million, the building is devoted exclusively to the health and natural sciences. Classrooms, laboratories and faculty offices for the departments of biology, chemistry and nursing occupy the three floors of the 61,000-square-foot facility.
The building is designed to put science on display. Ample windows—both to the outdoors and into classrooms and laboratories—enable students and professors to see teaching, learning, exploration and discovery in practice. The science center increases the number, size and flexibility of labs and provides space where long-running experiments can be staged, facilitating more faculty-student research that prepares students for graduate school admittance and success.
The DeWitt Family Science Center is named in honor of Jack and Mary DeWitt of Holland, Mich., who contributed the $6 million lead gift for the building—the largest single gift in Northwestern's history. Jack DeWitt died June 22, 2018, at the age of 75 after a battle with brain cancer.
Speaking at the dedication, Mary DeWitt said, "I know God resides on our campus because I've seen it and I've felt it. If Jack were here, I know he would say, 'Wow, this is beautiful!' Our family's desire is to honor God in all we do, and we know God will be honored through the science center. My prayer is that what students learn in this building will be used to glorify God in their careers."
President Greg Christy described the campaign as a "God-sized project" at the dedication. "We prayed that God would provide major givers and new donors. We had seven families or individuals contribute $14.5 million; five gave more than $1 million each. Many people told me they gave more to this project than to anything else in their lives. We are so grateful for their generosity."
The science center was part of a $30 million Discover Campaign that also included funds for the building's maintenance, science scholarships, and undergraduate research fellowships.
With the addition of the DeWitt Family Science Center, Northwestern is able to move its nursing department from an off-campus location into the heart of campus and collaborative proximity with the biology and chemistry departments. The nursing floor includes hospital bed stations equipped with human patient simulators, observation rooms for faculty to watch students practice nursing techniques, and the ability to record and review video of students working with different medical scenarios.
The building also includes a 960-square-foot greenhouse and a vivarium. An equipment budget will fund the purchase of a DNA sequencer, making Northwestern one of only two institutions in Iowa with the scientific instrument.