Northwestern students score in 77th percentile on MCAT exam
Wednesday, October 18, 2017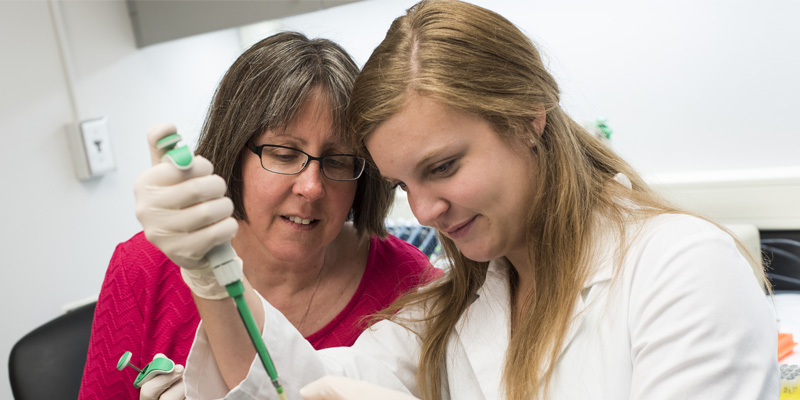 Northwestern College students taking the Medical College Admission Test (MCAT) this year scored in the 77th percentile, on average, besting the national average, which is the 50th percentile. One student scored in the 100th percentile and another in the 97th.
"We were excited to hear of our students' success," says Dr. Elizabeth Heeg, associate professor of biology and faculty sponsor of Northwestern's Future Physicians Club. "We think it's attributable to several factors, including comprehensive science classes that feature challenging tests and questions that require critical thinking; excellent tutoring from Randy Van Peursem, science support services professional; and Northwestern's strong liberal arts education. The students also cited self-motivation, positive self-talk and strong preparation."
Part of that preparation was in a voluntary, non-credit Pre-MCAT course Heeg offered last year to test the AdaptPrep software she's developing with Tim Huffman, professor of mathematics at Northwestern. Meeting every other week, science students learned about the exam and then did practice questions with the AdaptPrep MCAT software, to which they received free access. The software is currently on the market for the Chemical and Physical Foundations of Biological Systems and Critical Analysis and Reasoning Skills sections of the exam. It will be on the market for the Biological and Biochemical Foundations of Living Systems and Psychological, Social and Biological Foundations of Behavior sections this November.
"AdaptPrep is a software system that from an educational perspective works," says Heeg. "It doesn't negate the importance of class time but reinforces the relevance of what we're doing in class." Several Northwestern faculty members are among the software's content contributors. Developers are continually growing the question bank and making adjustments to the program based on student data.
The MCAT is taken by 60,000 to 80,000 students each year. Developed and administered by the Association of American Medical Colleges, it was created to help medical school admissions offices assess candidates' problem solving; critical thinking; and knowledge of natural, behavioral and social science concepts and principles.
Heeg says Northwestern's liberal arts education plays an important role in students' MCAT preparation. "In 2015 the MCAT added psychological and social science questions, so now half of the exam is on critical analysis, reasoning, psychology and sociology. At Northwestern, we have a strong core education, and students are introduced to critical analysis and reasoning skills in their First-Year Seminar, so we are priming them to succeed."
Recent Northwestern College graduates are currently in medical school at the University of Iowa, University of South Dakota, the University of Minnesota-Duluth, Des Moines University, Rush Medical College and Rosalind Franklin University in Chicago, and Kirksville College of Osteopathic Medicine in Missouri. Eighty percent of Northwestern's science majors headed to medical school are accepted the first time they apply; the national matriculation rate for all medical school applicants is just 45 percent.
Next year, Northwestern's science students will take classes and conduct research in a new $24.5 million natural and health sciences building. The 61,000-square-foot eco-friendly facility will house classrooms, laboratories and faculty offices for the departments of biology, chemistry and nursing.