Members of NWC's Future Physicians Club visit Sioux Falls hospital
Wednesday, March 22, 2017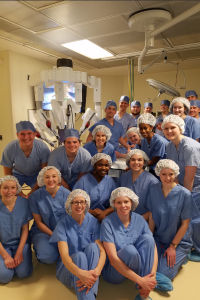 Members of Northwestern College's Future Physicians Club visited the Avera McKennan Hospital and University Health Center in Sioux Falls, S.D., on Saturday, March 18.
Students interacted with Avera staff, witnessed a robotic surgery demonstration, and toured a number of the hospital's facilities, including the Avera Cancer Institute, the neonatal intensive care and labor and delivery units in the Avera Women's Center, and the hospital's eCare center, a telemedicine network that supports clinicians across the country to provide quality patient care 24/7.
Students ended the experience with dinner at the home of NWC alumnus Brad Van Kalsbeek and his wife, Dr. Carilyn, a family medicine doctor who served as a tour guide during the visit to the Avera campus. Joining them for dinner was Dr. Christopher Auvenshine, a doctor at Avera who specializes in liver and pancreas treatment and surgery.
"The outing was supposed to be a day of interacting with Avera hospital staff to learn more about professions in the medical field, but it ended up being so much more than that," says Dr. Elizabeth Heeg, associate professor of biology and co-director of Northwestern College's Honors Program. "Students got to learn about eCare, a program where communities can partner with Avera's virtual health care providers to bring specialists together and to rural areas; received firsthand experience with the machines used in robotic facilitated surgeries; and benefited from listening to the journeys of Drs. Auvenshine and Van Kalsbeek."
The college's Future Physicians Club is for biology and chemistry majors who aspire to pursue a career in the medical field. In addition to test prep and med school application assistance, the club hosts events with practicing doctors, medical school students and admissions personnel to help students navigate their future career path.
Avera McKennan Hospital provides innovative health services to residents of Iowa, Minnesota, Nebraska, North Dakota and South Dakota at six regional centers, 33 hospitals, 208 primary and specialty care clinics, and 40 senior living facilities. Avera's mission is to make a positive impact in the lives and health of persons and communities by providing quality services guided by Christian values.