Northwestern biology prof presents at conference
Wednesday, June 8, 2016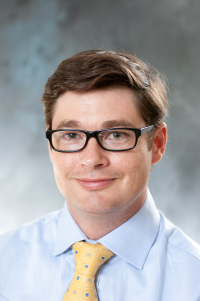 Dr. Tyrone Genade, assistant professor of biology at Northwestern College, presented a lecture at the American Killifish Association (AKA) convention in Denver in May.
During the convention, Genade presented findings from his research and methods for the captive maintenance of the Nothobranchius fish, which is being used for aging and genome studies.
Over the summer, he researched how to use the Nothobranchius furzeri fish for research into Parkinson's disease. Using funds from the Northwestern Endowed Research Fellowship, he was able to identify neurons in the brains and gut of the fish that produce the neurotransmitters dopamine and norepinephrine, which are deficient in people suffering from Parkinson's.
The AKA annual convention is held and attended by killifish enthusiasts from across the United States and Canada. During the event, various species of killifish are displayed, judged and auctioned off.
Prior to joining Northwestern's faculty in 2013, Genade was a post-doctoral fellow at the University of Cape Town where he conducted research in neurophysiology. A native of South Africa, he holds bachelor's and master's degrees from the University of Stellenbosch and a doctorate from the University of Cape Town.