Biology professor awarded for faculty service
Monday, May 4, 2015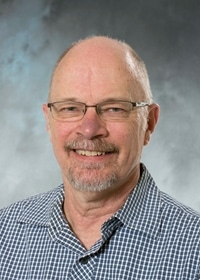 Dr. Byron Noordewier, professor of biology at Northwestern College, is the recipient of the college's 2015 Faculty Inspirational Service Award. His selection was announced at a recognition banquet for faculty and staff on May 4.
The award recognizes faculty members who consistently provide outstanding contributions by going above and beyond what is expected, who personify a strong Christian commitment, and who distinguish themselves as an inspiration to the campus community. A selection committee composed of faculty and staff chose the winner from among candidates nominated by Northwestern employees.
Noordewier, a member of the faculty since 1988, was described by biology professor Dr. Sara Tolsma as "a creative and hard-working teacher who takes extra time to help students understand the material."
Another colleague, Randy Van Peursem, science support services professional, said of Noordewier: "His depth of knowledge is phenomenal. He presents it in a way that makes students excited to learn the information. His quirky humor aids in the delivery of the information as well."
Van Peursem, who had Noordewier as a professor in the 1990s, said students find Dr. Noordewier challenging but understand he is preparing them well for graduate school or the workforce. "Many graduates comment that the depth of information and the difficulty of exams from his classes were well worth it."                                                                                                                               
Tolsma also cited Noordewier's leadership in the biology department as an example of his service. "As the senior member of the department, Byron has mentored all of us. We would not be the strong department and strong teachers we strive to be without his gentle advice, modeling and mentoring," she wrote in a letter of nomination.
Noordewier serves as Northwestern's faculty athletics representative and was the NAIA's 2013 recipient of the Wally Schwarz Faculty Athletics Representative of the Year Award. He also has served as president of Northwestern's faculty.
Before coming to Northwestern, Noordewier was a professor at Michigan State University and the University of North Dakota School of Medicine. He specializes in pharmacology and has taught in the Creation Care Study Program in Belize. Noordewier earned a doctorate in pharmacology at the University of Utah and did his undergraduate study at Westmont College.