Two profs awarded sabbaticals
Friday, October 18, 2013
Two Northwestern College faculty members have been awarded sabbatical leaves for research projects.


Dr. Laura Furlong, professor of biology, will spend the spring semesters of 2015 and 2016 conducting research on the stream insect populations of the California Channel Islands. Furlong first became interested in these islands while working on her dissertation and has returned intermittently to collect data. Her research will focus on the changes occurring in streams following the removal of cattle and feral pigs from the islands.
A member of Northwestern's faculty since 2001, Furlong earned doctoral and master's degrees in ecology and marine biology at the University of California, Santa Barbara. Before coming to Northwestern, Furlong taught at Westmont College. During Northwestern's fall and spring breaks, she teaches stream and marine ecology in Belize and New Zealand for the Creation Care Study Program.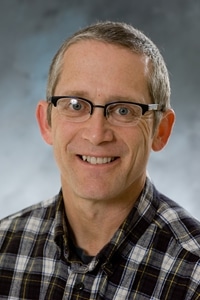 Dr. Michael Kugler, professor of history, will spend the spring semester of 2015 writing a short book on Scottish moral philosopher and Presbyterian minister Adam Ferguson. Building upon his dissertation work on Ferguson, Kugler will take a microhistory approach to discover the philosopher's contribution to the Scottish Enlightenment and connect it to relevant theological issues.
Kugler, a member of Northwestern's faculty since 1994, is the 2006 recipient of the Northwestern Teaching Excellence Award. He earned a doctorate in history from the University of Chicago and a master's degree in history from Western Washington University. A specialist in 18th-century Enlightenment history, Kugler has presented his research at conferences in Ireland, as well as at the American Society of 18th Century Scholars and the Conference on Faith and History.