Northwestern professor presents paper at theology conference
Thursday, January 25, 2018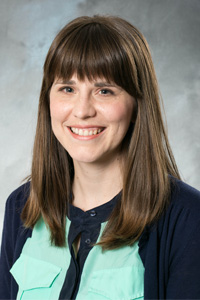 Dr. Cambria Kaltwasser, assistant professor of religion at Northwestern College, presented a paper at the Los Angeles Theology Conference on Jan. 19, held at Fuller Theological Seminary in Pasadena, Calif.
Kaltwasser's paper, titled "Time-Bound Subjects: Responsibility, Death and Christian Hope," examines the relationship between time and eternity. In studying the theology of 20th century theologian Karl Barth, Kaltwasser considers whether or not the object of Christian hope should be thought of as a future life in infinite time. She frames her paper as an appreciation of Barth's account while adding her own interpretations. "Barth's vision is that in the world to come, we'll essentially reflect on what God has done, but I am arguing we'll also continue to do new things," says Kaltwasser.
The Los Angeles Theology Conference takes place annually and seeks to resource contemporary systematic theology through high-quality publications associated with the conference themes. The theme for the 2018 conference was "The Christian Doctrine of Humanity."
Kaltwasser joined Northwestern's faculty last fall after earning a doctorate in systematic theology and a Master of Divinity from Princeton Theological Seminary. In 2013–14 she conducted research in Germany as a Fulbright Scholar. She earned a bachelor's degree in English from John Brown University. Kaltwasser is a fellow of the Barth Translators' Seminar through the Center for Barth Studies at Princeton Theological Seminary and an ordained minister in the Presbyterian Church (U.S.A.).