Old Testament scholar to speak at Northwestern College
Wednesday, September 27, 2017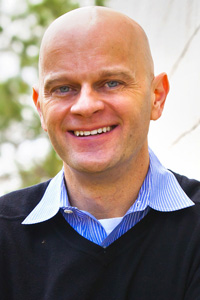 Dr. Brent Strawn, professor of Old Testament at Emory University's Candler School of Theology, will speak at Northwestern College Oct. 9 and 10. He will preach on "Saturdays Aren't Always Fairytales," based on Daniel 3, in chapel on Tuesday, Oct. 10, at 11:05 a.m.
Strawn will also give a lecture on Monday, Oct. 9, at 10:05 a.m. in the Vogel Community Room of DeWitt Learning Commons on "The Greatest Story Never Told: Rethinking the Bible as Poetry (Not Narrative)." He will deliver another lecture that afternoon at 3:30 in room 313 of Van Peursem Hall based on his latest book, "The Old Testament in Dying: A Diagnosis and Recommended Treatment," which was printed this year by Baker Academic. Each session is free and open to the public.
"Brent is one of the leading Old Testament scholars in the United States, and a person of deep and abiding Christian faith," says Dr. James Mead, professor of religion and department chair at Northwestern College. "We are delighted for our students and members of the community to have the opportunity to learn from him."
At Emory, Strawn directs the Doctor of Ministry program for Candler and serves as a senior fellow in the Center for the Study of Law and Religion. Honored as the seminary's professor of the year in 2011–12, he has written numerous books and articles, including "The Bible and the Pursuit of Happiness: What the Old and New Testaments Teach Us About the Good Life." He served as editor-in-chief for The Oxford Encyclopedia of the Bible and Law, for which he received the 2016 Dartmouth Medal for most outstanding reference work. Strawn was also a member of the editorial board and translation team of The Common English Bible. 
Strawn earned a doctorate and a Master of Divinity degree at Princeton Theological Seminary and a bachelor's degree at Point Loma Nazarene University. Before joining the faculty at Candler, he taught at Rutgers University and Asbury Theological Seminary.
An ordained elder in the United Methodist Church, Strawn preaches and teaches across the country. He has appeared on CNN numerous times on topics ranging from the Bible and politics to religious holidays and gun violence.