Michael Glen Bell to speak and perform
Wednesday, February 25, 2015
Musician Michael Glen Bell, a native of Storm Lake, Iowa, will speak and perform in Northwestern College's chapel services on Monday, March 16, at 10:05 a.m. and Tuesday, March 17, at 11:05 a.m. The events are free and open to the public.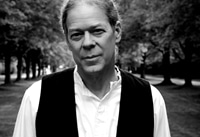 Bell is a singer/songwriter who combines his love of history and theology through music. An ordained United Methodist pastor, he has served as a youth pastor in several churches in Iowa and the Rocky Mountains. Additionally, he has worked in campus ministry at the University of Iowa.
Bell is the primary artist in a recording titled "Martyrs Prayers." The project takes the words and recorded statements of Christian martyrs throughout the centuries and turns them into music. The words of martyrs Dietrich Bonhoeffer, Oscar Romero and Clement of Rome are represented, among others. In addition to Bell, artists Phil Keaggy, Glenn Kaiser, Margaret Becker and Randy Stonehill contribute to the project. Christianity Today called the work "artful … musically sensitive."
During his chapel appearances, Bell will share music from "Martyrs Prayers." He will speak about the songs and perform both Monday and Tuesday. Additionally, he will host a guitar workshop on Monday at 6 p.m. in the choir room of Northwestern's Christ Chapel and perform a concert at the Hub, Northwestern's campus grill, on Monday at 8 p.m. Both events are free and open to the public. 
"Michael Glen Bell is a person of sincere faith and great musicianship," says Heather Josselyn-Cranson, Northwestern's director of music ministries. "By sharing his story and his songs, he's holding up examples for Christian living. These examples come from the martyrs featured in his songs—people who gave up their lives for God—but they also come from Michael himself, as someone who seeks to serve and glorify God with the gifts he has been given."
Bell's campus appearance is part of the Ronald R. Nelson Scholars and Artists in Residence Program, which seeks to inspire students with scholarship that reflects a vision of peace and justice. The program is named in honor of Ron Nelson, a history professor who served at Northwestern College from 1974 until his death in 1985.