Sioux City artist to display work at Northwestern
Thursday, August 11, 2016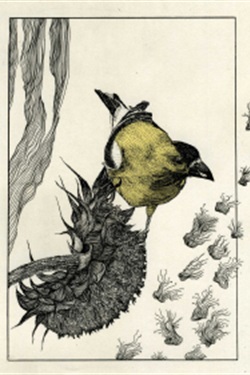 Northwestern College will open its 2016–17 art exhibit season with a show by Sioux City artist Amy Foltz. Entitled "Assorted Arts," the exhibit will be on display in Northwestern's Te Paske Gallery Aug. 23 through Sept. 16. A public reception is scheduled for Monday, Aug. 29, at 7 p.m.
"Assorted Arts" will include intaglio and relief prints, faceted glass windows, batiks, and small sculptures made from avocado pits. "The faceted windows are abstract designs rooted in the ideas of motion and color," Foltz says. "The batiks are inspired by the windows, and sometimes the windows inspire the batiks." The prints are small to encourage up-close and intimate viewing of her work.
Foltz teaches drawing at Morningside College. She has also taught 2D and 3D design at Western Iowa Tech Community College, design and printmaking at the University of South Dakota, and printmaking at the Penland School of Crafts in North Carolina.
Her artwork has been included in exhibitions in seven states, as well as 20 juried shows from Seattle to Washington, D.C.—including ArtSplash in Sioux City. Windows designed by Foltz have been installed in private residences, churches and a university's medical school.
Foltz has two degrees in printmaking: a Bachelor of Fine Arts from Ohio State University and a Master of Fine Arts from the University of South Dakota. She is a member of the Southern Graphics Council, the Mid America Print Council and the Sioux City Art Center.
Northwestern's Te Paske Gallery is located in the Thea G. Korver Visual Arts Center, on Highway 10 at 214 8th Street SW in Orange City. Gallery hours are 8 a.m. to midnight Monday through Saturday and 1 p.m. to midnight Sunday.