Omaha artist to display work at Northwestern
Wednesday, January 22, 2014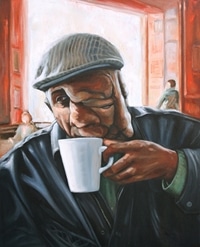 Portraits by Omaha artist Rachel Mindrup will be on display in Northwestern College's Te Paske Gallery Feb. 3–21. A public reception is scheduled for Friday, Feb. 7, at 7 p.m.
Entitled "The Many Faces of NF," the exhibit introduces viewers to people living with neurofibromatosis, a set of genetic disorders that cause tumors to grow along various types of nerves and that can affect the development of bones and skin.
"My son Henry has been the motivation behind my series of portraits," Mindrup says. "Through these paintings, I am the conduit, transforming genetic complications into something secondary and portraying the individual personalities first."
Mindrup is a professional artist and art educator who graduated from the University of Nebraska at Kearney with a Bachelor of Fine Arts degree, studied figure drawing and painting at the Art Academy of Los Angeles, and earned a Master of Fine Arts degree from the Art Institute of Boston. Her artwork is held in many private collections, including those of primatologist Jane Goodall and Supreme Court Justice Clarence Thomas. Her client list includes Kiewit Corporation, Boys Town, Creighton University, Boys Town National Research Hospital, and the Kansas City University of Medicine and Biosciences.
Mindrup's teaching experience includes the Kansas City Art Institute, Creighton University, Metropolitan Community College, Joslyn Art Museum and Kent Bellows Studio. Her art has been exhibited in Massachusetts, Missouri, Nebraska, New York, Kansas, Colorado and Arizona. She also illustrates children's books and does caricatures. A member of the College Art Association and the Kansas City Artist Coalition, she is the co-founder of the Missouri Valley Impressionist Society.
Northwestern's Te Paske Gallery is located in the Thea G. Korver Visual Arts Center, on Highway 10 at 214 8th Street SW in Orange City. Gallery hours are 8 a.m. to midnight Monday through Saturday and 1 p.m. to midnight Sunday.