NWC senior to display installation art
Wednesday, March 27, 2013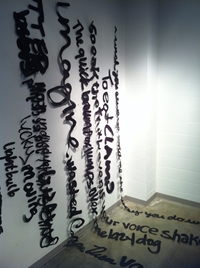 Installation art by Sarah Kugler of Orange City will fill Northwestern College's Te Paske Gallery April 8–12. A public reception with Kugler is scheduled for Monday, April 8, at 7 p.m.
Entitled "Bright Pink Lung Blood," Kugler's work consists of different people's handwritten words that she photographed and enlarged to as much as five feet in width before tracing and cutting out the letters from black paper. She then sewed the letters together with thread and attached different words together in the same manner, creating strands of varying lengths—some as long as 20 feet—which hang suspended across the gallery's ceiling and down to the floor.
Kugler's project is about guilt and doubt and creating something she personally would love to see in a museum. "I think making handwritten words—these usually small, two-dimensional, ephemeral works—into something large and space-occupying, with a distinctive presence, creates a visually and intellectually striking environment," she says.
Kugler wants her audience to consider the visual rhythm created by different people's handwriting and what is conveyed both by the content of the words and the appearance of the letters. She also wants those who attend the exhibit to consider the "tough questions: What does art do to comfort, or teach, or inspire people? Or does it do that at all?"
Kugler is a senior majoring in both art and philosophy. Her exhibit is in partial fulfillment of the requirements for a bachelor's degree in art. The daughter of Michael and Cheryl Kugler, she eventually plans to enroll in graduate school and pursue a Master of Fine Arts degree in sculpture.
Northwestern's Te Paske Gallery is located in the Thea G. Korver Visual Arts Center, on Highway 10 at 214 8th Street SW in Orange City. Gallery hours are 8 a.m. to midnight Monday through Saturday and 1 p.m. to midnight Sunday.