Jesse Baldwin to present exhibit
Wednesday, March 6, 2013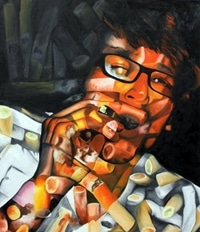 Jesse Baldwin, a senior art major at Northwestern College, will display his paintings in the college's Te Paske Gallery March 18–22. A public reception with Baldwin is scheduled for Friday, March 22, from 7 to 9 p.m.
Part of the requirements for a bachelor's degree in art, the exhibit will feature large paintings done in either oil or acrylic, some of which are self-portraits and some that have a cartoon-like style. "The show captures three things I find valuable in life: humor, irony and relationships," Baldwin says.
Baldwin is the son of Tim and Mary Beth Baldwin of Spirit Lake, Iowa. In addition to majoring in art, he is completing teaching endorsements in secondary education and coaching. He plans to student teach in an art classroom this fall after graduating from Northwestern in May.
Northwestern's Te Paske Gallery is located in the Thea G. Korver Visual Arts Center, on Highway 10 at 214 8th Street SW in Orange City. Gallery hours are 8 a.m. to midnight Monday through Saturday and 1 p.m. to midnight Sunday.