Student presents at conference
Wednesday, November 14, 2012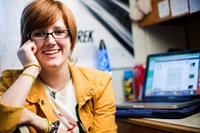 Northwestern College senior Sarah Kugler, Orange City, participated in an art and visual culture panel discussion at the Mid-Atlantic Popular and American Culture Association's annual conference in Pittsburgh Nov. 1–3.
The panel discussion was titled "Crafted Politics." Kugler's presentation, "Public Art in an Age of Instant Gratification," explored how a contemporary culture of instant gratification affects citizens' capacity for thoughtful critical analysis of art and other symbols, pictures and icons that require more than just a cursory glance for understanding and meaning to occur.
Kugler argued for the creation of more public art: "Introducing people to images in their own environments and in their own cultural languages could foster curiosity and thoughtfulness in an age of instant gratification," she wrote in the abstract that led to her invitation to the conference.
Kugler's abstract and subsequent paper and presentation were the result of a directed study with Northwestern art professor Emily Stokes. The art and philosophy double major was joined by panelists from Bowling Green State University, Ohio; George Mason University, Virginia; and the State University of New York at Fredonia.