Kang to present faculty recital at Northwestern
Wednesday, October 9, 2013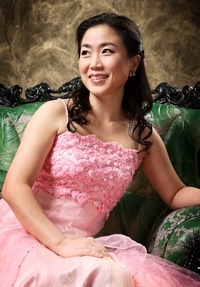 Dr. Juyeon Kang, associate professor of music at Northwestern College, will present a faculty recital in Christ Chapel on Saturday, Oct. 26, at 7:30 p.m. The concert comes a week after she performs the same program in New York City's Carnegie Hall.
Kang, a member of the music faculty since 2003, will present a program entitled "Joyful Dances." Her concert will feature a wide variety of dance music from different periods. The repertoire will include Beethoven's "Polonaise in C Major, Op. 89," "Partita No. 3 in A minor, BWV 827" by Bach, Piazzolla's "Tango Suite," five preludes from Debussy's "Préludes Book I & II" and "Andante Spianato and Grande Polonaise Brilliante, Op. 22" by Chopin.
"I want people to leave the concert inspired, feeling restored," says Kang. "Life is difficult. I hope they remember there's always something to dance about, to lift your soul."
A native of Korea, Kang began taking piano lessons at the age of four after her brother's cello teacher realized she had perfect pitch. She began playing piano and organ at her church in middle school and came to Eastman School of Music in Rochester, N.Y., to pursue a master's degree in piano performance and literature after earning a bachelor's in piano performance at Seoul National University.
It was at Eastman that Kang realized her potential to be a concert pianist. Her teacher, Natalya Antonova, convinced her she could become a good soloist despite her small hands. "I really enjoyed performing, and that's when I realized music has such a spiritual power and I wanted to cherish the gift I had from God," says Kang.
She launched a performance career that included her debut solo recital in Boston's Jordan Hall after winning two first prizes in 1998: the Heida Hermann's Young Artists Competition and the Josef Hofmann Piano Competition. In 2000 Kang earned a certificate in Italy's prestigious Busoni International Piano Competition. She has since performed on four continents, including concerts this past summer in Austria, South Korea and Costa Rica. 
Kang earned the prestigious artist diploma in piano performance from the New England Conservatory of Music in Boston, where she was on the faculty in the college division, and a doctoral degree in piano performance and literature from Eastman School of Music.
Kang's second recording, also entitled "Joyful Dances," has just been launched and will be for sale at the recital with proceeds going toward a Northwestern College international student scholarship. The CD includes much of the repertoire from her recital.