Northwestern music professor edits book
Friday, October 4, 2013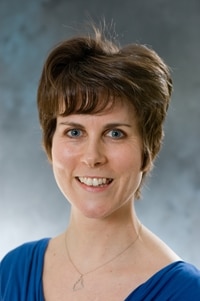 Dr. Heather Josselyn-Cranson, associate professor of music and director of music ministries at Northwestern College, served as editor for the second edition of "For All the Saints: A Calendar of Commemorations," published Oct. 3.
The book, first published in 1995, is a collection of one-page stories about Christians throughout the past 2,000 years. Each story focuses on a particular saint and provides an example of how that person was faithful in his or her circumstances. "We use the term 'saint' as Paul did, referring to people of great faith to whom we can look as examples," explains Josselyn-Cranson. "We hope the stories of how these saints lived lives of faith will inspire present-day Christians."
As editor, Josselyn-Cranson was responsible for identifying new saints to be added to the second edition. Some of the additions included civil rights activist Rosa Parks; Branch Rickey, who helped to integrate major league baseball; and 9th century Christian missionaries Cyril and Methodius.
The publisher, Order of Saint Luke Publications, approached Josselyn-Cranson to edit a second edition of the book. "I'm interested in and have studied how congregations commemorate people of importance," says Josselyn-Cranson. "I found authors who were willing to research and write about the saints we wanted to include, and I also wrote a number of the saints' stories myself."
A member of Northwestern's faculty since 2005, Josselyn-Cranson earned both a Doctor of Theology degree in liturgy and liturgical music and a Master of Sacred Music degree from Boston University. Previously the minister of education and music at Old West Church in Boston, she received a bachelor's degree in music composition from Bates College.