World-renowned musicians to perform
Wednesday, October 2, 2013
Internationally acclaimed musicians David Gompper and Michael Norsworthy will present a program of 20th century piano and clarinet music in a recital at Northwestern College's Christ Chapel on Friday, Oct. 18, at 7:30 p.m. The concert is free and open to the public.
A composer and pianist, Gompper is the director of the Center for New Music at the University of Iowa. His compositions have been performed throughout the United States and Europe, including at Carnegie Hall and Wigmore Hall.
Gompper studied at the Royal College of Music in London and earned his doctorate at the University of Michigan. He taught, performed and conducted at the Moscow Conservatory through a Fulbright Scholarship. Gompper received an Academy Award from the American Academy of Arts and Letters in 2009.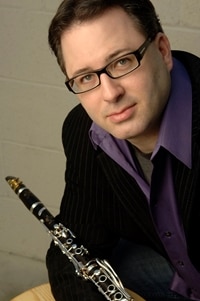 Norsworthy is a professor of clarinet and woodwind admissions coordinator at The Boston Conservatory. His virtuosity and unique voice on the clarinet have made him a sought-after soloist and chamber music collaborator and garnered praise from critics and audiences around the globe. His performances have taken him to distinguished concert venues including Vienna's Musikverein, Moscow's Tchaikovsky Philharmonie Hall, and New York City's Carnegie Hall. A champion of new music, Norsworthy has given over 125 world premieres with leading contemporary music groups, including Klangforum Wien, Boston Modern Orchestra Project and Manhattan Sinfonietta.
An active board member for American Century Music, Norsworthy also serves as the Massachusetts state chairman for the International Clarinet Association. He holds advanced degrees from New England Conservatory and Southern Illinois University at Carbondale.
Gompper and Norsworthy's guest recital at Northwestern will include pieces written within the last 100 years, including Derek Bemel's "SchiZM," "Black Anemones" by Joseph Schwantner and "Three American Pieces" by Lukas Foss. Norsworthy will also perform "Nebraska Improptu," a piece written by Marti Epstein especially for the clarinetist.