Communications prof to present at conference
Thursday, September 12, 2013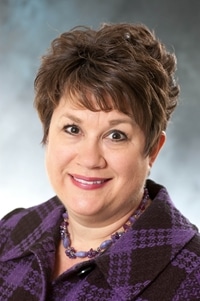 Ann Vander Kooi Minnick, assistant professor of communications at Northwestern College, will present a paper at the Iowa Communication Association conference in Ankeny on Friday, Sept. 20.
Minnick will present "Portfolios: Positioning Students to Become Professionals" as part of the conference's theme of "Being Professional." She will discuss the importance of student-developed portfolios for use while searching for internships and jobs. Her talk will include information about how a portfolio should be developed, what it should look like, how it should be evaluated, and how it fits into an assessment plan.
Minnick also serves as the association's journal business manager and will take part in executive board meetings while at the conference.
A member of Northwestern's faculty since 2007, Minnick directed community relations for the Orange City Area Health System for eight years. She also worked in public relations and marketing for hospitals in Sioux Falls, S.D.; Iowa City, Iowa; and Grinnell, Iowa.