Wiersma studies in Nashville
Friday, April 26, 2013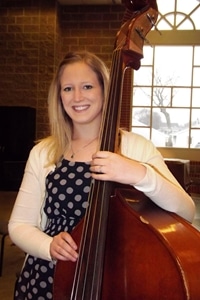 Alexis Wiersma, a Northwestern College senior music major from Orange City, recently completed a semester of study at the Contemporary Music Center (CMC) in Nashville, Tenn.
The CMC is one of the off-campus programs offered through the Council for Christian Colleges & Universities. The music center offers three different tracks for students to choose from. The artist track encourages students to hone their music skills as they perform original songs for live audiences; the tech track focuses on the production of shows, encompassing recording, lighting and sound work; and the business track allows students to manage schedules, balance budgets, write press releases and run a tour.
Wiersma, a string bass player who has participated in numerous Northwestern music ensembles, chose the business track. "My freshman year, I became interested in pursuing music business," says Wiersma. "My mom found this program, and I kept it in the back of my mind. My sophomore year I decided I wanted to do it."
Spending 14 weeks in Nashville allowed Wiersma to experience some hard truths about the music industry. "The staff is very honest," explains Wiersma. "You will get honest answers, you will get honest critiques, and it's not always pleasant, but that's good." Students who struggle to succeed in one track aren't at a total loss. "If your song is bad, they're going to tell you. But they're always encouraging and they will help you find what you are good at," says Wiersma. Students have been known to switch tracks to help capitalize on their strengths.
Although there are three separate tracks, the lines are often blurred to spread talent throughout the program. "The bands are made up of everybody," says Wiersma. "One of the tech guys was a really great guitarist, so he played for a lot of people. I also played for a variety of artists."
The culmination of the program was a weeklong seven-concert tour that took the students to colleges in Kentucky, Ohio and Pennsylvania. Students in the artist track performed their original songs, tech students designed lighting and sound sets to convey each artist's vision, and members of the business track kept things on schedule. "I was the production assistant, so I was responsible for booking the hotels, making sure we had all of the equipment we needed, all the rentals we needed, the bus, the truck … all while staying on budget."
Wiersma returned home on April 19 with a sense of accomplishment, 16 credit hours earned, and connections to various Nashville music producers. "It's really busy and intense, and sleep is hard to get, especially when you have studio times from midnight until 6 in the morning, but I learned a lot and it was worth it," explains Wiersma. "I found that being an artist manager would be a good career for me."