Scorza to be awarded doctorate
Thursday, April 18, 2013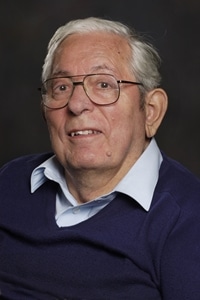 The Rev. Dr. Syl Scorza, professor emeritus of religion at Northwestern College, will be awarded an honorary Doctor of Humane Letters degree at commencement exercises on Saturday, May 11. The Board of Trustees approved the recognition at its spring meeting April 15 and 16.
Scorza, now 90, taught at Northwestern from 1959 to 1990, helping to prepare hundreds of young men and women for ministry. Paralyzed from the chest down as the result of a traffic accident while a senior at Hope College, he went on to graduate from Western Theological Seminary and earn doctorates in Old Testament from Princeton Theological Seminary and linguistics from the University of Illinois.
Scorza served the Reformed Church in America at both the regional and national levels—including as president of the General Synod in 1989–90—and wrote for the denomination's Sunday School Guide for four decades. He also served as a lay member of Iowa's Board of Law Examiners and was named the state's Disabled Person of the Year in 1990. After retiring, he amassed 220 credits at Northwestern, taking at least one course nearly every semester in subjects ranging from science to art and history to music.
"We would be hard-pressed to think of anyone more deserving of an honorary doctorate than Syl Scorza," says Northwestern's president, Greg Christy. "His commitment to Christ, the church, Northwestern and lifelong learning is inspirational. He is a remarkable man, and we are very excited to honor him and his wife, Phyllis, at graduation. They make a great team."