Symphonic Band to tour Cuba
Tuesday, October 23, 2012
Fall semester is only half over, but members of Northwestern College's Symphonic Band are eagerly awaiting spring break—when they will tour Cuba as guests of the National Band of Cuba. The 54-member Northwestern ensemble will work with the professional musicians and present a number of concerts March 2–12.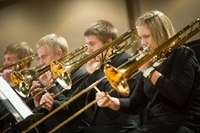 Northwestern's group will be the first full symphonic band from the United States to perform in Cuba. The Northwestern students will spend a lot of time with members of the National Band, rehearsing together and presenting one or two joint concerts. The Symphonic Band will also perform at high school and college music conservatories and a church.
"Almost all of our work there will be with musicians," says Dr. Tim McGarvey, professor of music and director of Northwestern's Symphonic Band, "so we will have a great opportunity to impact their lives and learn from them."
One of the Northwestern band's goals is to bring much-needed musical instruments and supplies, such as mouthpieces and valve and slide oil, to Cuban musicians. The band is partnering with Ray's Midbell Music of Sioux City to contribute many items.
In fact, Blair Dake, a technician at Ray's who graduated from Northwestern in 2003, will join the students on the trip and provide instrument repairs for musicians in the economically depressed country. "Because of the U.S. economic sanctions, it's difficult for Cubans to come up with decent instruments and supplies," says McGarvey.
The Northwestern group's repertoire will be primarily American music and will include sacred pieces such as "Be Thou My Vision" and "Amazing Grace."
"We want to encourage and serve the people we meet, both physically and spiritually," says McGarvey. "For our students, I want them to experience the joy of using their gifts to serve God and others, and I look forward to them immersing themselves in a culture that's far different from ours."
The Northwestern entourage will be traveling under cultural visas. The trip is being arranged by Harmony International, a mission touring organization that has coordinated several concert tours to Cuba.
The band members are each paying $1,600 to participate in the trip. The group is also seeking to raise an additional $36,000 for the tour. Donations can be made online at www.nwciowa.edu/give2band.
Instruments in good working condition can be donated to the music department for delivery to Cuba. Those needing repairs should be delivered to Ray's Midbell Music, which will make repairs at the donor's expense but at a 20 percent discount. Donations of musical supplies can be given to band members or delivered to the music department.