Education prof earns doctorate
Wednesday, August 8, 2012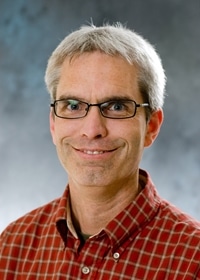 Derek Brower, an instructor in education at Northwestern College, has earned a Doctor of Education degree from Montana State University. He graduated in August after successfully defending his dissertation July 2.
Brower's dissertation is entitled "Incorporating Formative Assessment and Science Content into Elementary Science Methods: A Case Study." His research involved using formative assessment, a teaching strategy, in a course he teaches at Northwestern.
"Formative assessment is trying to understand what your students understand and then using that knowledge to guide your teaching," Brower says.
Instead of telling his education students what formative assessment is, Brower let them experience it. He identified two science topics they didn't fully grasp—plant food and plate tectonics—and then spent six weeks teaching that content. Each Monday he collected formative data using pre-tests, non-graded quizzes, and science notebooks and journals, which would then guide what and how he taught on Fridays.
"For many of them, this was the first time they experienced the connection between collecting information on what students understand and then teaching specifically to that on another day," Brower says. "Formative assessment needs to be experienced by students in a teaching methods class, and it helps for it to be tied to science content as well as pedagogy."
A follow-up study Brower conducted with his class after the six weeks revealed an improvement in their understanding of the science topics that were covered, as well as a better understanding of formative assessment and a desire to incorporate it into their future teaching.
Brower joined Northwestern's education department in 2006 after spending 13 years teaching science at schools in Iowa, Washington, Botswana, the Marshall Islands and Thailand. A Northwestern College graduate, he earned both a second degree in science education and a master's degree in technology education from Western Washington University.