Social work prof earns doctorate
Wednesday, July 11, 2012
Valerie Stokes, assistant professor of social work at Northwestern College, will graduate in August from the University of South Dakota with a Doctor of Philosophy degree in human development and educational psychology. She successfully defended her dissertation—entitled "Help-Seeking in Rural Mothers Who Have Experienced Intimate Coercive Control in Northwest Iowa: A Phenomenological Qualitative Study"—on June 11.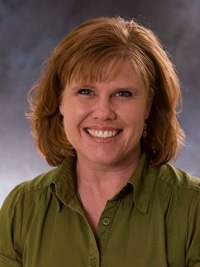 Stokes' research involved conducting multiple interviews with a dozen women over the course of five months. All of the women were rural mothers and all had been in relationships that—while they didn't involve physical violence—were characterized by extreme controlling behavior on the part of the spouse or partner.
Stokes wanted to identify barriers the women faced in getting help, as well as bridges that encouraged them to seek assistance. "There's the home environment that's a barrier, but a lack of service providers, a lack of knowledge about those providers, and the distance to those providers all created a barrier," Stokes says. Also problematic were social barriers related to the women's rural setting: the perceived lack of anonymity and possible loss of one's social reputation, particularly for those with higher incomes. Stokes also identified religious barriers to help-seeking for women involved in churches where Scripture was used to make them think they should endure in the relationship.
Key to a woman seeking help, Stokes found, was her role as a mother. "That was the motivating factor," she says. "There are a handful of researchers who are looking at mothering in intimate partner violence. This research will add to that. These women were from different towns, counties, economic backgrounds and providers. It was fascinating how there were such similarities based on those two factors of being a rural mother."
Stokes joined Northwestern's social work department in 2008 after serving as executive director of The Bridge in Orange City, a transitional housing agency for women and children impacted by poverty, domestic violence and/or homelessness. She previously spent seven years as a therapist at Northwestern, including four as co-director of student counseling services. She also worked as a program supervisor at the Council on Sexual Assault and Domestic Violence and as a social worker at the Crittenton Center in Sioux City.
A Northwestern College graduate with a Master of Social Work degree from the University of Nebraska at Omaha, Stokes is a licensed independent social worker and a licensed master social worker.