Kensak appointed as new director of general education
Friday, April 13, 2012
Dr. Michael Kensak, professor of English at Northwestern College, has been selected to direct the college's redesigned integrative general education (G.E.) curriculum, which was approved by faculty vote in March.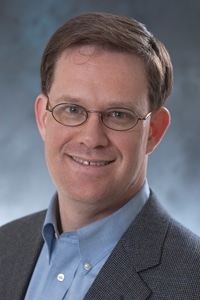 The redesigned curriculum features a 14- to 16-credit core of classes all Northwestern students will take, including a first-year seminar that will engage new college students in the Christian liberal arts and a senior-year seminar that will ensure graduates are prepared to apply all they've learned—both in their major and in their general education classes—to their future vocation and a life of social responsibility. The core also includes eight credits of classes that focus on the Christian story and tradition.
The remainder of the G.E. curriculum is comprised of courses that fall under learning themes such as belief and reason, cross cultural engagement, historical perspectives, and self and society.
The college's new general education program also established a standing general education committee to ensure continuous review and evaluation of the G.E. curriculum and credit requirements. Kensak, who received a grant to study the market value of the liberal arts in 2010 and has served as Northwestern's director of assessment, will lead the committee.
 "Directing our new general education program is the opportunity of a lifetime for someone like me," said Kensak, who describes "a moment of terror" when, as a college sophomore he realized he'd have to choose among all the subjects he enjoyed studying. "It's a chance for me to be involved with all those disciplines again."
"The new program makes general education its own department," says Kensak, describing a department that includes faculty from multiple disciplines regularly assessing and brainstorming about ways to make students' learning and experiences more meaningful and connected.
The goal of the redesigned G.E. curriculum is to involve students more intentionally in their own learning goals. "Instead of just ticking off G.E. boxes, students will constantly be reminded of the purpose and goals for their education," said Kensak. "There will be more conversation between professors and students about the value of the liberal arts for their future, which will include more than just their careers."
Kensak, who teaches in both the English and foreign language departments, will continue to teach Medieval, Renaissance and Shakespearian literature as well as German and linguistics courses.
He earned a master's and doctorate in English from Vanderbilt University. As an undergraduate at Princeton University, Kensak earned degrees in English, German and music.